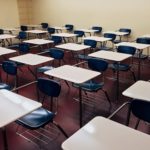 The Wall Lake City Council continues to develop plans for the public sale of items from the interior of the former East Sac County (ESC) Elementary School. Clerk, Chris Rodman, says they have received multiple requests from residents and past students regarding specific objects from the oldest sections of the building. Rather than just selling them to the first buyer that asks, the council is organizing an open sale in the interest of fairness.
Everything from old doors and radiators to clocks and whiteboards will be sold. According to Rodman, they are not anticipating a lot of revenue from the sale, and any money raised will go back to support future projects at the former school. He says these items will need to be disposed of regardless, and it is more efficient to do so locally rather than seeking out potential buyers.
Rodman says some of the items to be sold are close to 100 years old.
The council has not decided on the dates for these sales, but they are expected to finalize their plans during their Monday, July 26 meeting. City officials will release more details about the sale on the community's Facebook page and website.