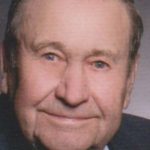 Earl Boes, 97 of Breda, died Wednesday, July 21, 2021, at St. Anthony Nursing Home in Carroll.
Mass of the Christian Burial will be celebrated at 2 p.m., Saturday, July 24, 2021, at St. Bernard's Catholic Church in Breda.  The Celebrant will be Fr. Timothy Friedrichsen.  Lector for the Funeral Mass will be Anna Utech.  Gift Bearers will be Alyson Boes, Dr. Hayley Boes, Isabelle Boes, Anna Utech, Molly Ganza and Dr. Morgan Boes.  Casket Bearers will be Neil Boes, Mark Boes, Dale Boes, Dan Snyder, Randy Snyder, and Dan Nieland.  Burial will be in St. Bernard's Cemetery in Breda with Military Honors conducted by the Breda American Legion.
Visitation will be held at the Sharp Funeral Home in Breda on Saturday from 11-1 p.m.
Funeral arrangements are under the guidance of the Sharp Funeral Home in Breda and online condolences may be left for Earl's family at www.sharpfuneral.com.
Earl was born on November 29, 1923, near Breda, Iowa the son of Theodore and Anna (Schulte) Boes.  He spent his entire lifetime in the Breda area and graduated from St. Bernard's High School.  Earl served in the United States Army during the Korean Conflict and in 1951 following his honorable discharge he returned to the Breda area.  On July 6, 1957, he was united in marriage to Alice Schweers at St. John's Catholic Church in Arcadia.  Earl and Alice lived in the town of Breda for a brief time while he was employed with Buelt Hatchery.  They later moved to their farm east of Breda where they were engaged in grain and livestock farming until retirement when they built their new home in Breda.
Earl enjoyed fishing, crossword puzzles and the card club him and Alice belonged to for over 35 years.  In the afternoons, Earl could be found at Red's Place playing cards with the guys.  He was a member of Catholic Order of Foresters, St. Bernard's Parish and Breda American Legion.
Survivors include his children: Neil (Jamie) Boes of Lakewood, CO, Mark (Jackie) Boes of Colleyville, TX, Jane Utech of Iowa City, and Dale (Lisa) Boes of Breda; his grandchildren: Molly Ganza, Dr. Morgan Boes, Alyson Boes, Isabelle Boes, Dr. Hayley Boes, Anna Utech, Lauren Harris, and Camden Harris; as well as many nieces, nephews, and other extended relatives.
Earl was preceded in death by his wife Alice in 2014; his parents, Theodore and Anna Boes; his son-in-law, Craig Utech; and his siblings: Tony Boes, Clemens Boes, Clarence Boes, Philomena Thelen, Albert Boes, Matilda Thelen, Rose Ludwig, Edmund Boes and Raymond Boes