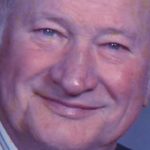 Robert Richard Erps, age 91, of Arcadia, IA, passed away on Monday, July 19, 2021 at Manning Regional Healthcare in Manning, IA.
     Funeral service will be held at 10:30 A.M. on Friday, July 23, 2021 at Zion Lutheran Church in Arcadia with Pastor Ben Dose officiating.  Organist for the service will be Rebecca Dose.  Casket bearers will be Corey Erps, Damien Erps, Dustin McCarter, Drew Billings, Doug Schutte, and Steve Niehaus.  Burial will be in the Arcadia Cemetery with military honors conducted by the Arcadia American Legion.
     Friends may call at the Dahn and Woodhouse Funeral Home in Carroll from 5 – 7 P.M. on Thursday.  The casket will be moved to the church at 9:30 A.M. on Friday where visitation will resume until 10:15 A.M.
     Funeral arrangements are under the direction of the Dahn and Woodhouse Funeral Home in Carroll and online condolences may be left for the family at www.dahnandwoodhouse.com
    Bob, as he was known to most, was born on April 29, 1930 on his family's farm in Carroll County, IA, and he was the son of Edward and Ellen (Axford) Erps.  He grew up on the farm and graduated from Arcadia High School in 1947.  He worked at the Arcadia Coop until being drafted into the United States Army in 1952.  Bob served during the Korean Conflict stationed in Germany attaining the rank of Corporal.  Following basic training, he came home on a one week leave and was united in marriage to Wanda Mae Wiebers on October 12, 1952.  Following his honorable discharge in 1955, Bob returned home to Arcadia and worked for Pete Schmitz Pluming which later became Bob's Hardware and then Bob's Electric and Service.  Bob retired in 2008.  He enjoyed fishing, hunting, following the Chicago Cubs, and attending Ar-We-Va sporting events.
     Bob is survived by his wife Wanda of Arcadia; two sons: Gary Erps (Mary) of Arcadia and Glenn Erps (Donna) of Carroll; seven grandchildren: Chris Hernandez, Mindy Campbell, Mary Beth Erps (Drew Billings), Kelly Pottebaum, Damien Erps (Emily), Andrea McCarter (Dustin), and Corey Erps (Heather), eight great-grandchildren; two sisters: Elaine Burge of Carson City, NV, and Ruth Buddenhagen of Ankeny; a brother-in-law Gordon Wiebers of Denison; a sister-in-law Katherine Erps of Des Moines; and several nieces and nephews.
     Bob was preceded in death by his parents Edward and Ellen Erps; his father and mother-in-law: Ray and Christina Wiebers; a brother Dr. William Erps; a sister Lois Hill (Willis), his son Richard Erps, and two children in infancy Kathy and Gerard.