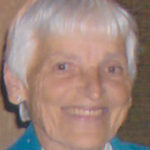 Betty Danner, age 90, of Dedham, died late Monday, July 19, 2021 at St. Anthony Regional Hospital in Carroll.
Mass of the Christian Burial will be celebrated at 10:30 a.m. Saturday, July 24, 2021 at St. Joseph's Catholic Church in Dedham. The Celebrant will be Fr. Kevin Richter, assisted by Deacon Louis Meiners. Music will be by Barb Danner, Alex Danner, and Becky Clark. Lectors and Gift Bearers will be Kalee Vonnahme, Annie Rudolph, and Kelsi Wirzbach; with Jeanne Danner reading the Prayers of the Faithful. Casket Bearers will be Ken Vogl, Brad Vogl, Rich Vogl, Tom Danner, Kevin Kasperbauer, and Mike Eich. Burial will be in the parish cemetery.
Visitation will be held at the Sharp Funeral Home in Carroll on Friday from 4:30 to 7 p.m. There will be a Rosary prayed at 6:30 p.m. Visitation will resume at St. Joseph's Church in Dedham from 9:30 to 10:15 a.m. Saturday morning.
Memorials may be left at the funeral home or at the church to be directed to the National Fragile X Foundation or American Cancer Society.  Funeral arrangements are under the guidance of the Sharp Funeral Home in Carroll, and online condolences may be left for Betty's family at www.sharpfuneral.com.
Betty Mae, the daughter of John and Elizabeth (Uhlenkamp) Vogl was born on July 2, 1931 on a farm near Halbur. The family moved to a farm south of Templeton in 1935, and she attended Sacred Heart School in Templeton. She was employed at Greteman Produce in Templeton before her marriage.
On November 27, 1954 she married Leo Danner and they settled on a farm east of Dedham where she lived for 67 years until the time of her death. She was a homemaker and enjoyed scrapbooking, playing dominoes, and traveling. Most of all she loved her family dearly, and enjoyed spending time with all of them. Betty was a member of St. Joseph's Ladies Guild, and St. Joseph's Parish.
Betty is survived by her four sons: Dave (Carol) Danner of Dedham, Jim (Daisy) Danner of Coon Rapids, Gary (Julie) Danner of Dedham, and Bob (Jeanne) Danner of Dedham, 7 grandchildren:  Jeremy Danner of Carroll, Annie (Mike) Rudolph of Coon Rapids, Eric (Sara) Danner of Coon Rapids, Kalee (Jason) Vonnahme of Carroll, Kelsi (Ben) Wirzbach of Des Moines, Cory Danner of Dedham, and Carter Danner of Dedham; as well as 8 great-grandchildren, 2 step great-grandchildren, and two great-great-grandchildren. Also surviving are her siblings and their spouses: John (Adella) Vogl of Adair, Earl (Laurel) Vogl of Carroll, Dorothy (Pete) Danner of Carroll, Mary Ann (Norbert) Kasperbauer of Manilla, and Levan Eich of Carroll; sisters-in-law: Lorraine Vogl of Atlantic, and Lorraine Danner of Carroll as well as many nieces, nephews, and other extended family members.
Betty was preceded in death by her husband, Leo in 2009; parents, brothers: Joe Vogl, LeRoy (Barbara) Vogl; parents-in-law: Peter and Anna Danner; and brother-in-law Mike Eich.