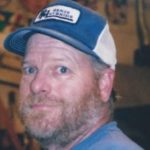 Delwin Carl Krause, age 65, of rural Glidden, IA, passed away on Saturday, July 17, 2021 at home surrounded by his family.
     A funeral service will be held at 6:00 P.M. on Saturday, August 14, 2021 at the Dahn and Woodhouse Funeral Home in Glidden with Chaplain Angelo Luis officiating.  Urn bearer will be his good friend Eric Brincks.    Burial will be  in the Lake Creek Cemetery in Rockwell City at a later date.
     Visitation will be held at the Dahn and Woodhouse Funeral Home in Glidden from 4 – 6 P.M. on Saturday prior to the service.
     Funeral arrangements are under the direction of the Dahn and Woodhouse Funeral Home in Glidden and online condolences may be left for the family at www.dahnandwoodhouse.com
     Delwin was born on February 14, 1956 in Carroll, IA, and he was the son of Lawrence and Phyllis (Pottroff) Krause.  Delwin lived on his family's farm north of Glidden his entire life. Delwin's father passed away when he was 16 years old and he began farming with his uncle Donald Pottroff (P&K Farms).  He graduated from Glidden-Ralston High School in 1974 and attended Iowa Central Community College in Ft. Dodge where he graduated with a degree in Farm Power Mechanics.   He was married to Rhonda Ausborn on June 26, 1976 at Pilgrim Lutheran Church in Lake City, IA.  To this union two children were born: Andrew and Amanda.  Rhonda passed away on December 1, 2013.  Delwin was a farmer at heart and also enjoyed fishing, hunting, and four wheeling.  He had a special talent for woodworking and he also had a unique knack for collecting "other people's treasures".  Most of all, Delwin was happiest hanging out in his shop with family and friends.
     Delwin is survived by his better half Deb Wuebker of rural Glidden; a son Andrew Krause of Glidden; a daughter Amanda Krause (Dave Miller) Des Moines; four grandchildren: Max Krause, Spencer Krause, Paige Krause, and Barrett Johnson; a sister Donita Pryor (Keith) of Carroll; two brothers: Dennis Krause of Justin, TX, and Landis Krause of Carroll; and several nieces and nephews and other extended family members.
     Delwin was preceded in death by his parents Lawrence and Phyllis Krause; his wife Rhonda; and a brother Larry Krause.