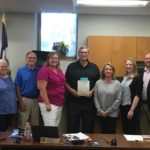 Pictured: Board members (L-R) Cindy Johnson, Duane Horsley, Jen Munson and Karen Friedlein, and Superintendent, Dr. Casey Berlau, presented Bengtson (center) a retirement gift at last week's board meeting to thank him for his years of service and dedication to CCSD.
Carroll Community School District (CCSD) Director of Business Affairs, Gary Bengtson, is retiring after more than three decades in the central office with his final day on the job coming up later this week. Bengtson was hired 32 years ago, and, according to him, a lot has changed since he first started. For example, Bengtson was one of the very first people in the district to have a computer on his desk.
Bengtson adds the board of education his shifted its focus more towards student achievement, curriculum and staff professional development rather than day-to-day operational issues, which he considers a positive change. Over the course of his career, Bengtson served as the behind-the-scenes foundation for the district's leadership team, working with five different superintendents and numerous board members, principals and teachers. He says there are many things that he is proud to have been a part of during his career, but the overall improvement to the district's facilities stands out most to him.
As for challenges, Bengtson says there have been plenty, but he believes the biggest challenge for CCSD is yet to come.
Bengtson adds the district is fortunate to have a great team of board members, administrators, teachers and the support of its stakeholders, and he is confident the school has a bright path ahead. He thanks the many people he has worked with over the year for making him look forward to coming to work every day. However, he still enthusiastically tears off a link from the paper chain hanging in his home that his family hung to help him count down his remaining days each morning. His final day in the office is Wednesday, June 30. His successor, Nicole McCarville, officially takes over at the beginning of the new fiscal year on Thursday, July 1.