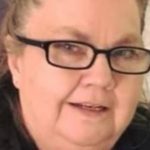 Linda Wempe, age 60, of Carroll died Friday, June 11, 2021 at her home surrounded by her family after a courageous battle with cancer.
A Celebration of Life will be held from 5-7 p.m. Friday June 18, 2021 at Sharp Funeral Home and The Sharp Center in Carroll.
Funeral arrangements are under the guidance of the Sharp Funeral Home in Carroll, and online condolences may be left for Linda's family at www.sharpfuneral.com.
Linda, the daughter of Vernon and Marion (Schroeder) Wempe was born on April 19, 1961 in Carroll, Iowa.  She grew up in Breda and graduated from St. Bernard's High School in 1979.  After high school she worked at different places before beginning a career at Casey's in Carroll that lasted over 30 years.   Linda enjoyed being outdoors, and had a fond love of camping.  Most of all she enjoyed spending time with her family especially her grandchildren.
Linda is survived by her husband Dennis Behrens of Carroll; sons: Scott (Tyffani) Wempe of Carroll, Adam (Amanda) Wempe of Carroll, Craig (Donna) Behrens of Halbur; grandchildren: Ryan, Payten, Carson Scott, Carson Michael, Jase, and Anna.
Also surviving are Linda's siblings: Joe (Rhonda) Wempe of Breda, Tim (Helen) Wempe of Breda, and Peg (Bill) Rench of Sac City, as well as many nieces, nephews, and other extended relatives and friends.
Linda was preceded in death by her parents: Vernon and Marion Wempe.