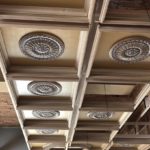 Pictured: Decorative medallions were installed in the ceiling as part of the restoration to return the Lake City Community Building to its original style.
The Lake City Council unanimously approved the creation of a new city position last week to manage the historic Lake City Community Building. Administrator, Eric Wood, says the ongoing renovations to the century-old structure are beginning to wind down, and they'll need somebody to oversee its operation once it begins hosting events and gatherings again.
City officials began advertising for the position on Friday and are hoping to have the opening filled as quickly as possible. Wood says a significant amount of work has already been completed inside the Community Building with the remaining pieces likely finished within the next several months.
Once work is completed, the structure will look very similar to how it did when it first opened in 1920. City officials are optimistic it will be a popular location for wedding receptions, family reunions and other gatherings. Wood says the manager will be classified as a municipal employee, but their wages should not come as an expense to the city.
The city council contributed $500,000 to the renovations with more than $250,000 raised through grants and private donations to restore the interior. The vast majority of the restoration work is being done by Paul Iverson, owner of God's Wood woodworking of Lake City. Officials are planning to host a public grand opening for the community around Nov. 11.