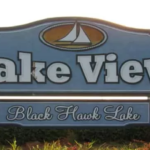 The Lake View City Council did not take formal action at their meeting Monday night after receiving an evaluation report from an engineering firm on the community's water mains. According to Administrator, Scott Peterson, Veenstra & Kimm's report says homes and businesses in the northwestern portions of town are experiencing below normal pressures in their lines. Peterson says this has been a longstanding problem, but the study found the problem could be fixed by building an additional pumping facility in the affected area.
The study also examined potential ways to install redundancies in water delivery to the same region to provide more consistent service to customers.
City officials briefly discussed the proposed solutions but tabled it with the intent to bring the topic back at a future meeting. Peterson says addressing these issues are not an immediate concern, but he would like to see something done within the next several years.
Peterson adds the more pressing concern in terms of water infrastructure will be preparing the system for a substantial increase in demand with expansions at the Evapco and Jacobsen Hybrid Corn Company facilities and East Sac County building in Lake View.