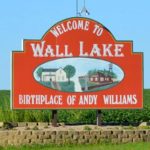 Wall Lake City officials are exploring potential uses for the $105,000 allocated to the city through the American Rescue Plan Act with repairs to the community's water tower being the most likely option as of now. Administrator, Chris Rodman, explains the scope of work being considered.
He adds the council is hoping to hear back relatively quickly from the contractor to help the proposed work proceed smoothly, assuming their estimates fit into the budget. Rodman says they are also exploring the possibility of refurbishing the town's aging standpipe.
Wall Lake will receive 50 percent of the American Rescue Plan Act funds within the next several months and the remaining 50 percent will be delivered a year after the initial allocation. Rodman says the council will make a decision on whether they will move forward with the repainting and re-lining once bids are received. Due to limitations on how the money can be used, the city council will need to explore other options if this project is not accepted.