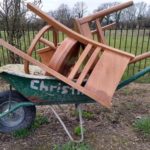 Wall Lake's annual spring clean-up days are scheduled for the end of next week, and city officials are reminding residents of several changes that have been made to the program. According to Administrator, Chris Rodman, the pick-up days are scheduled for Thursday, May 13 and Friday, May 14. He says individuals wishing to dispose of household wastes will need to contact city hall prior to those dates.
Rodman says most items can be set out near the curb with their regular garbage on those mornings. This includes things like couches, beds, lamps and almost anything else not considered hazardous waste. However, Rodman says some materials will need to be delivered to the city maintenance shed for proper disposal.
The drop-off location will be accepting materials from 1 p.m. to 7 p.m. on those dates. Rodman notes some waste does come with a disposal fee.
He adds a common question they have been receiving from residents is what they should do with paint. They are accepting paint during the spring clean-up, but it should be dried out completely before it is left at the curb. Again, Rodman encourages anybody with questions about the dos and don'ts to contact the city offices at 712-664-2216.