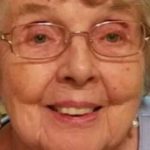 Helen Louise Thatcher passed away on Sunday, May 2, 2021 at St. Luke's Hospital in Sioux City, Iowa, after a brief illness, at the age of 91.  Services are under the guidance of Meyer Brothers Colonial Chapel in Sioux City and will be held at Wesley United Methodist Church, 3700 Indian Hills Drive. There will be a visitation, at the church, with family present, on Friday evening 5-8 pm., with prayer service starting at 7pm. Visitation will resume prior to the funeral which will be held on Saturday, at 11am.
Helen was born at Moville, Iowa on April 28, 1930, to John and Carrie (Reinders) Smith. In her early years, she moved with her  family from farm to farm and lived in several communities, graduating from Sloan High School in 1949.  When she was a rollerskating car hop at Jack and Jill Drive In, she met John "Duane" Thatcher and, on June 5th of 1949, they married, at Elk Point, South Dakota.   They lived in the Leeds area of Sioux City and were parents of five children.
She is remembered for her fantastic cinnamon rolls, homemade noodles for soup, fry cakes and her love of flowers.  She fondly recalled her days of playing 6 on 6 basketball in school and winning trophies at the bowling alley.  She spent many days working at the laundromat in Leeds they purchased in 1970.  She enjoyed sewing, including dolls and doll clothes. She always looked forward to spending time with family at their cabin on Lake Mazaska, Minnesota and to family reunions, During retirement, she and Duane started a charity called Casa y Mas.  This charity allowed them to build 76 homes in Mexico  and created endearing friendships with many there.  She and Duane thoroughly enjoyed taking their grandchildren on trips to Canada, California, Florida, Texas, day trips and attending sporting and musical events.   She greeted all with a hug and a kiss.  Helen was an active member of the Wesley Womens Groups. She was a member of Siouxland Antique Car Club and enjoyed meetings and tours.
She is survived by her son, Charles (Mary) of Breda, Iowa, and daughter Sheryl (Greg) Cripps of Sioux City, 9 grandchildren and 19 great grandchildren and one more on the way, inlaws Ann Campbell, Joan (Bob) Stein and Jan Cutler.
She was preceded in death by her husband in 2015, her son Mark in 1996 and two daughters Kayann Joan and Deborah Sue, in infancy.  Also preceding her were her parents, her brothers, John, Ray (Nellie) Smith and Eugene, her sisters  Geneva (Carl) Taute, Bernetta (Ray) Stoos, Clara (Louis) Rogers,  Dorothy (Gilbert) Larsen, and twins Rosella &
Marcella Smith. In laws Dick Campbell and Jim Cutler.
Memorials will be used for her favorite charities.