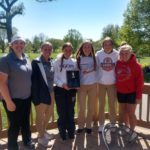 Girls Golf Results Tuesday, May 4th
Carroll At Atlantic Tournament At Atlantic Country Club
Team Standings
Carroll 364
Creston 380
ADM 384
Shenandoah 396
Winterset 410
Denison Schleswig 418
Glenwood 422
Atlantic 425
Harlan 432
Clarinda 452
Red Oak 525
Carroll won their 2nd straight tournament and placed three golfers in the top 10. The Tigers distanced themselves from the pack with a 364, 16 strokes ahead of 2nd place Creston. The Tigers had two golfers score in the 80's and two more in the 90's.
Laura Sweeney had a great back 9 on Saturday at the Kuemper invite and it rolled right into Tuesday. Sweeney finished with an 84 and was runner-up medalist. Rylie Driskell of Creston won medalist with an outstanding round shooting a 79. Grace Pettitt also had another great day for the Tigers taking 3rd place with an 86. That gave Carroll two of the top three scores for the tournament. They weren't done though with Ashlee Danner who is coming on strong, shooting a 96 to finish 9th. Just behind Ashlee was her sister Abby who played well on Saturday as well. Abby finished with a 98.
Carroll Scores
Laura Sweeney 84                   Runner-Up Medalist
Grace Pettitt 86                      3rd
Ashlee Danner 96                   9th
Abby Danner 98
Erin Winker 102
Delaney Schurke 106
Coon Rapids Bayard and Glidden Ralston Girls At Rolling Valley Conference Meet At Carroll Muni
Team Standings
Boyer Valley 185
Coon Rapids Bayard 213
Woodbine 270
Glidden Ralston No Team Score
CAM Anita No Team Score
Exira-EHK No Team Score
Coon Rapids Bayard took 2nd place at the conference meet held at the Muni in Carroll on Tuesday with Glidden Ralston golfing just thee varsity golfers so they didn't have a team score. There were six teams that competed but only three fielded enough golfers for team scores. Boyer Valley claimed the title with a 185 followed by Coon Rapids Bayard with a 213 and then Woodbine with a 270. The Crusaders had four of their five golfers in the 50's while the Wildcats had two of three golfers shoot in the 50's. The tournament was held on the back 9 on a windy day.
Brynn Bass of Coon Rapids Bayard and Kim Daily of Glidden Ralston both finished with 52's and had the top score for their team. The Crusaders were very balanced with Alaya Betts and Emma Hart both at 53 and Morgan Hart with a 55. Elizabeth Lloyd of Glidden Ralston finished with a 59 and Macy Snyder 76.
Coon Rapids Bayard Scores
Brynn Bass 52
Alaya Betts 53
Emma Hart 53
Morgan Hart 55
Haley Halbur 63
Glidden Ralston Scores
Kim Daily 52
Elizabeth Lloyd 59
Macy Snyder 76
Riverside At Audubon
Audubon 238
Riverside No Team Score
Audubon picked up a second straight win over a team that didn't field enough players for a team score. The Wheelers shot a 238 and had three golfers in the 50's and two more in the 60's.
Sydney Beymer wasn't happy with her score in a conversation at the WIC track meet but she finished runner-up with a 54. Kali Irlmeier has been playing well lately and scored a 57, Allison Elmquist fired a 59 and Madison Vorm finished 68.
Audubon
Sydney Beymer 54                  Runner-Up
Kali Irlmeier 57
Allison Elmquist 59
Madison Vorm 68
Kacie Anthofer 69