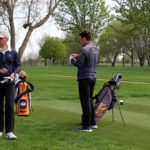 Boys Golf Results for May 3rd, 2021
Kuemper Vs Carroll High at Country Club
Kuemper and Carroll went head to head in an 18 hole meet Monday. Kuemper was able to win the meet with a score of 334, while Carroll scored 340. Both teams played well despite the wind gusts and split medalist honors. 
For Kuemper, Tyler Auen shot a team best 80 and earned himself runner up medalist honors. Mitchell Badding kept close to Auen and scored an 83 on the course. Maverick Schwabe contributed well to Kuemper's score, ending his day with a score of 85. Cater Putney rounded out the scoring for Kuemper scoring an 86. 
For Carroll, Drew Munson scored a meet best 78 and walked away with medalist honors. Ty Nissen kept close with Muson on the first nine holes, but he began to split away in the second nine. He ended his day with a score of 82. Collin Schultes continued to improve in his game, scoring an 88. Bryce Berlau rounded out the scoring for the Tiggers, ending the 18 hole course with a score of 92. 
Team Standings
Kuemper 334

Carroll High 340
Kuemper Scores
Tyler Auen
80
Runner up Medalist
Mitchell Badding
83
Maverick Schwabe
85
Carter Putney
86
Jack Tiefenthaler
90
Benicio Lujano
108
Carroll Scores
Drew Munson
78
Medalist
Ty Nissen
82
Collin Schultes
88
Bryce Berlau
92
Miles Bogue
112
Dreylen Schweitzer
124
IKM-Manning at Missouri Valley
The IKM-Manning Wolves picked up a team win and both medalist honors against Missouri Valley Monday. The Wolves finished the day with a team score of 165 compared to Missouri Valley's score of 193. Despite the wind gusts, the Wolves' top four scorers finished with scores in the high 30s and low 40s.
Kyler Rasmussen wrapped up his day on the course with a final score of 38 and earned himself medalist honors. Tyler Brandt finished close ahead of Rasmussen with a score of 40 and earned runner up medalist honors. Max Nielsen contributed well to IKM-Manning's score, finishing with a score of 43. Connor Richards rounded out the scoring for the Wolves, wrapping up the course with a score of 44. 
Team Standings
IKM-Manning 165

Missouri Valley

193
IKM-Manning Scores
Kyler Rasmussen
38
Medalist
Tyler Brandt
40
Runner up Medalist
Max Nielsen
43
Connor Richards
44
Grant Gaer
50
Zach Willenborg
52
East Sac and South Central Calhoun at Twin Lakes Conference Tournament at Storm Lake
East Sac and South Central Calhoun each had a player in the top 20 as the Raiders finished 7th with a 387 and the Titans were 10th with a 399 overall. The Raiders were three strokes behind West Bend Mallard for 6th place while the Titans were six strokes behind Storm Lake St Mary's for 9th place. The Titans were missing the score of Corey Hicks who signed a wrong card and his score was not counted. Newell Fonda was crowned the team champion with a 347 followed by Pocahontas Area 356 and Emmetsburg 365.
Justin Hanks of South Central Calhoun was the top local individual shooting a 86 and finishing 6th. Dylan Meredith of East Sac shot a 93 and finished 16th overall. The Raiders had three guys in the 90's with Meredith followed by Joel Halbur 95 and Caleb Villhauer 97. Both of those guys have been coming on strong. Bradyn Burns who has also had a nice season for the Raiders was their fourth score with a 102. The Titans had Hanks with his 86 and he was followed by Bryan Steig 97 and Brennan Holder 99. Those two have been very consistent over the past couple weeks. Keaton Daniel was South Central Calhoun fourth score with a 117. Newell Fonda swept the top honors with Hogan Henrichs 77 as Medalist and Mason Dicks Runner-Up Medalist with a 83.
Team Standings 
Newell Fonda 347
Pocahontas Area 356
Emmetsburg 365
Alta-Aurelia 368
Sioux Central 371
West Bend Mallard 384
East Sac 387
GTRA 390
Storm Lake St Mary's 393
South Central Calhoun 399
SE Valley 440
Manson NW Webster 444
East Sac Scores
Dylan Meredith 93              16th 
Joel Halbur 95
Caleb Villhauer 97
Bradyn Burns 102
Joe Langbein 103
Jackson Stoltenberg 107
South Central Calhoun Scores
Justin Hanks 86                6th 
Bryan Steig 97
Brennan Holder 99
Keaton Daniel 117
Nik Whipkey 122
Corey Hicks- No Score