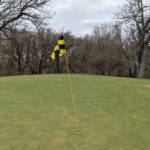 Girls Golf Results Monday, May 3rd
Kuemper and Lewis Central At Denison Schleswig
Team Scores
Denison Schleswig 213
Lewis Central 240
Kuemper 242
Kenna Soppe had another solid day as the Kuemper girls finished third at the triangular on at Denison. The Knights were just two strokes behind Lewis Central with a 242. Denison Schleswig won the meet with a 213 on a windy and cloudy day.
The Knights had two players shoot in the 50's with Soppe earning medalist honors again. Abby Nees fired a 57 while Grace Tigges added a 66 and Kara Daniel finished with a 69. Tessa Petersen of Denison Schleswig claimed runner-up medalist honors with a 50.
Kuemper Scores
Kenna Soppe 50                      Medalist
Abby Nees 57
Grace Tigges 66
Kara Daniel 69
East Sac and South Central Calhoun At Twin Lakes Conference Meet At Fort Dodge
Team Standings
Newell Fonda 398
Pocahontas Area 425
SE Valley 438
Alta-Aurelia 447
GTRA 448
South Central Calhoun 449
Emmetsburg 451
Manson NW Webster 452
Sioux Central 453
East Sac 481
Storm Lake St Mary's 484
West Bend Mallard No Team Score
South Central Calhoun finished 6th with East Sac in 10th on a windy Monday morning in Fort Dodge. The Titans were in a tight race for a top 5 finish but were edged by Alta-Aurelia by 2 strokes for 4th and GTRA by one stroke for 5th. The Raiders were 10th, holding off Storm Lake St Mary's but 3 strokes.
Sidney Beirt of East Sac continued her good play taking 5th overall for the Raiders shooting a 99. She shot a 50 on the front 9 and a 49 on the back for a consistent day. Sayer Steig of South Central Calhoun also had a top 10 day taking 9th over with a 103. Steig was also consistent with a 51 and a 52.
Sally Musselman has been coming on strong for South Central Calhoun and finished with a 113, Allison Stokes added a 115 and Emma Anderson shot a 118 for the Titans. The Raiders got a 111 from Lauren Litterer, Lexi Thomsen shot a 130 and Cianna Johnson finished with a 141 for the Raiders.
South Central Calhoun Scores
Sayer Steig 103                 9th
Sally Musselman 113        27th
Allison Stokes 115             29th
Emma Anderson 118        35th
Mia Babcock 122              42nd
Macy Macke 135              57th
East Sac Scores
Sidney Beiret 99                5th
Lauren Litterer 111           22nd
Lexi Thomsen 130             53rd
Cianna Johnson 141          60th
Jamie Pierce 142              61st
Emily Hansen                    65th
IKM-Manning At Missouri Valley
IKM-Manning 231
Missouri Valley No Team Score
IKM-Manning picked up a team win on Monday as the Big Red only had three golfers and not enough for a team score. The Wolves also picked up Medalist and Runner-Up Medalist honors and had two girls shoot 52 or better and five of their six scores in the 60's or better.
Kylie Powers continues her hot streak winning another medalist honor shooting a 48 while Bre Muhlbauer added runner-up medalist with a 52. Eryn Ramsey added a 64 and Brooke Booth finished with a 67.
IKM-Manning Scores
Kylie Powers 48                 Medalist
Bre Muhlbauer 52            Runner-Up Medalist
Eryn Ramsey 64
Brooke Booth 67
Maeve Nielsen 69
Megan Williams 76