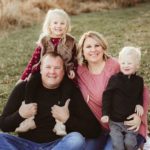 The Carroll Community School District's (CCSD) next Director of Business Affairs, Nicole McCarville, is bringing nearly a decade of public-sector finance experience with her to the job. The board of education approved McCarville's hire at their meeting last week, and she is already beginning preparations to transition into her new role. Prior to accepting the job at CCSD, McCarville worked for eight years at New Hope Village in Carroll, five of which as their chief financial officer. She says there are many similarities between how the two organizations are funded.
McCarville says she was drawn to apply for the job due to her family's ties to education. While she has not worked in a school before, McCarville says it has been a large part of her life since a very young age.
In a situation like New Hope's, McCarville says revenues can fluctuate suddenly due to changes in government programs such as Medicaid. McCarville says schools face similar challenges with year-to-year adjustments in state funding for K-12 education.
Her first official day as Director of Business Affairs is July 1, 2021, but school officials are hoping to bring McCarville in sometime in June to work with Gary Bengtson, the outgoing director, to ease the transition. McCarville and her husband, Colby, live in Carroll and have two children, five-year-old Lexi and three-year-old Liam. She says she is looking forward to taking this next step in her career and being a good steward of taxpayer money while helping to provide a quality education for students.