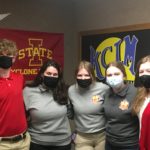 Pictured (L-R): Max Meyers, Kysa Auen, Britnee Irlbeck, Hannah Duncan and Dayna Toft
The Kuemper Catholic High School (KHS) spring musical debuts tonight (Thursday) and the cast is excited to be retaking the stage after the 2020 show was cancelled due to the pandemic. According to Student Director, Britnee Irlbeck, this year's presentation will differ from past shows. Rather than focusing on a single plot, Irlbeck says they will be performing a selection of songs from the most well-known musicals.
Practice has proven challenging for the cast and crew with social distancing and mitigation protocols still in place. They started rehearsing about a month later than usual because it was not clear if they would even be able to host a production this year. Senior, Dayna Toft, says a lot of time and effort has gone into making sure the spring musical is entertaining for all who attend.
Attendance is limited due to COVID-19 with only 175 seats available for each show. Senior, Hannah Duncan, expects tickets to go fast with many people excited for the return of live entertainment and the broad appeal of the musical selection.
The Thursday, Friday and Saturday shows all begin at 7 p.m. at the Carroll Recreation Center Auditorium. Tickets are $5 each for students and seniors and $6 for the general public. They can be purchased at the door prior to each show or in advance from the Kuemper High School office.