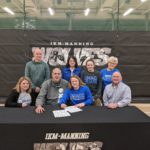 DMACC WOMEN'S BASKETBALL TEAM BEATS NIACC IN REGION XI-B SEMIFINALS, 74-52
——————–
Bears improve to 15-6 with 16-point win
DMACC will face Iowa Central Community College in Region XI-B championship game
Freshman Grace Flanagan of Coggon leads Bears past NIACC with 15 points
Freshmen Magan Christopherson of Milford, Emily Caspers of Swaledale and Lexi Branning of Manning also score in double figures
Freshman Grace Flanagan of Coggon led four players in double figures with 15 points as the DMACC women's basketball team handed North Iowa Area Community College (NIACC) a 74-52 loss in the National Junior College Athletic Association (NJCAA) Region XI-B basketball tournament semifinals April 6 inside the DMACC gymnasium.
Freshmen Magan Christopherson of Milford and Emily Caspers of Swaledale scored 14 points apiece and freshman Lexi Branning of Manning added 10 as the Bears improved to 15-6 for the season.
DMACC will play Iowa Central Community College (ICCC) in the Region XI-B championship game April 10 inside the DMACC gymnasium. Game time is 1 p.m.
The Bears dominated NIACC in beating the Trojans for the third time this season. They led 19-10 at the end of the first quarter, 36-23 at halftime and 54-32 at the end of the third quarter.
DMACC shot 43 percent in the win, hitting 31 of 72 field goal attempts. The Bears were 7-of-22 from three-point range and 6-of-8 from the free throw line.
Banning and Caspers came away with double doubles, grabbing 12 and 10 rebounds respectively as DMACC had a 49-33 advantage on the boards. Christopherson had six rebounds and Flanagan added five to go with a team-high seven assists. Flanagan also led the Bears in steals with 12.
DMACC and ICCC split their season series, each winning on the road. The Bears defeated the Tritons 67-63 Feb. 3 at Fort Dodge and ICCC came away with a 69-63 decision March 31 inside the DMACC gymnasium.
The DMACC-ICCC winner will advance to the NJCAA DII Women's Basketball Championship April 20 to 24 at Hickory, N.C.