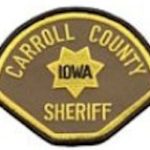 The Carroll County Board of Supervisors accepted the purchase of a new vehicle for the Carroll County Sheriff's Office Monday. This is a replacement for one that had been involved in an accident in February. Sheriff, Ken Pingrey, explains.
Generally, replacement of patrol vehicles takes six to seven months at minimum. Pingrey says he should have notified the board, but he did some searching locally and from dealers who have state bids.
Supervisor, Dean Schettler, says he would have appreciated prior notification.
Pingrey says vehicles don't last long on a dealer lot and he felt it necessary to take action immediately to lock in the replacement. Chair, Gene Meiners, says he had a conversation with County Attorney, John Werden, who reported there was nothing remiss in the way bids were sought, but that it needed to be discussed in an open meeting and made part of the permanent record. Rich Ruggles did some research on the questions Schettler had raised.
Stephanie Hausman agrees with Schettler about communication, but says emergencies are beyond their control, they can only learn from this and it was good to hear the deputy was not injured. Meiners adds he would like to see the Sheriff's Office be in a position to have a spare vehicle on hand for just such circumstances. Not only would this allow them to live up to their obligations without interruption, it would provide more time to get a replacement vehicle ordered and into use. Pingrey says the insurance company provided a check for $14,000 for replacement and will issue a new check once the equipment, which was not damaged in the accident, is removed and placed in the new vehicle. County Auditor, Kourtney Irlbeck, says a check was presented to Stew Hanson Dodge, Ram, Chyrsler, Jeep and Fiat of Urbandale for $15,900.