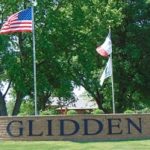 The Glidden City Council has selected a bid from a Texas-based firm to complete proposed improvements to the community's electrical system. The city council received bids from two contractors at their Feb. 22 meeting and chose the low bid from Primoris T&D Services Corporation out of Fort Worth. Administrator, Brooke Peterson, says the project will overhaul much of the electrical grid between Idaho and Colorado Streets south of Highway 30.
Primoris' bid of $206,000 was very close to the estimate from Stanely Consultants, the engineering firm behind the project, and unanimously approved by the council. Peterson says the next step is for the city to finalize a contract with the company, which will take place over the next several months. Once those details are confirmed, a completion date will be set. Peterson explains why this work is necessary.
Regardless of when that work occurs, Peterson does not expect residents or businesses to experience any notable interruptions in service. She says it should improve the overall efficiency and reliability of the system once completed. City officials will provide more details once a construction start time is selected.