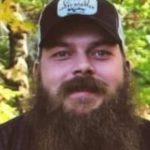 Jonathan Virgil Dickman, age 33, of Coon Rapids, IA, passed away on Wednesday, February 17, 2021 at his home near Coon Rapids.
        Funeral service will be held at 3:00 P.M. on Thursday, February 25, 2021 at Ascension Lutheran Church in Coon Rapids with John Kult officiating.  Casket bearers will be Joe Dawson, Frank Sawyer, Matt Schoon, Chris McClellan, Simon McCalister, Josh Smith, and Israel Whiles.  Burial will be in Orange Township Cemetery near Coon Rapids.
     Visitation will be held at Ascension Lutheran Church in Coon Rapids from 1:00 P.M. on Thursday until 2:45 P.M.
     Those in attendance at Jonathan's visitation and funeral are asked to abide by Covid-19 guidelines and facemasks are required at the church.
     Funeral arrangements are under the direction of the Dahn and Woodhouse Funeral Home in Coon Rapids and online condolences may be left for the family at www.dahnandwoodhouse.com.
     Jonathan was born on October 14, 1987 in Iowa City, IA, and he was the son of Kendall and Lisa (Allen) Dickman.  He grew up in Coon Rapids and graduated from Coon Rapids High School 2006.  Following high school he worked several jobs and most recently for Sawyer Power Washing and Knudsen Farms.  He was married to Joni Benton on February 7, 2013 in Carroll, IA.  Jon enjoyed welding, deer hunting, kayaking, working on small engines with his children, and helping his friends and family whenever asked.
     Jonathan is survived by his wife Joni of Coon Rapids; his children: son Joseph, daughter Kylee, and son Riley; his parents Kendall and Lisa Dickman of Coon Rapids; his mother-in-law Charlene Benton; his paternal grandparents Virgil and Melva Dickman of Coon Rapids; his maternal grandmother Lois Allen of Galva; two sisters-in-law Kelly Benton (Josh Korwes) of Manning and Tanya Hancock (Paul) of Leander, TX; two nieces: Lily and Emma; and two nephews: Chayton and Maverick.
    Jonathan was preceded in death by his grandfather Russell Allen; his father-in-law Eric Benton; and his brother Justin Dickman in 2009.