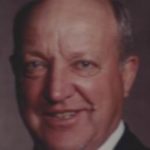 Ralph Joseph Bock Sr., age 91, of rural Glidden, IA, passed away at his home on Saturday, February 20, 2021 peacefully with his family at his side. His faith was core through his life.  This faith undoubtedly carried him inot eternal life as he passed peacefully while watching Mass.
      A private Mass of the Christian Burial will be celebrated on Wednesday, February 24, 2021 at Annunciation Catholic Church in Coon Rapids with Fr. Randy Schon as Celebrant.  Lector for the Mass will be will be Jerry Kult.  Casket bearers will be will be Ralph's eleven children.  Private burial will be in the Merle Hay Memorial Cemetery near Glidden.
     A recording of Ralph's Mass will be available on the Dahn and Woodhouse Funeral Home's YouTube channel within 24 hours of the service and a link will be provided on his obituary page at www.dahnandwoodhouse.com
     Those who wish to send cards and memorials may mail them to: The family of Ralph Bock – P.O. Box 401 – Glidden, Iowa  51443.
     Ralph was born on December 17, 1929 on his family's farm near Raeville, NE, and he was the son of Cornelius and Mayme (Heithoff) Bock.  He grew up in Raiville until his family moved to Glidden when he was twelve years old.  Ralph graduated from Glidden High School in 1947 and was a member of the National Honor Society.  Ralph was a lifelong farmer and purchased his current farm in 1967.  Ralph was married to Mary Ann Bellinghausen on November 28, 1950 at Holy Angels Catholic Church in Roselle, IA, by Fr. Bernard Montag.  The couple raised eleven children on their farm south of Glidden.  He was a member of Annunciation Catholic Church.  Ralph served as president of Carroll County Farm Bureau and president of the Glidden – Ralston School Board.  He also served on many boards including the Glidden Coop Board, Carroll County Fair Board, Richland Township Trustee, and Carroll County Beef and Pork Producers.  Ralph was honored to have the United States Secretary of Agriculture, Richard Lyng, visit his farm.  Farming was Ralph's life, but he always shut down the farm on Sunday and also to attend his children's events.  Ralph and Mary Ann traveled to Rome in 1983 and attended midnight Mass on Christmas Eve.  Ralph was a proud American Red Cross blood donor and donated many gallons of blood over the years.
     Ralph is survived by his eleven children and their families: son Ralph Bock Jr. (Connie) of Glidden, son Neil Bock (Rhonda) of Carroll, son Patrick Bock (Janel) of Glidden, daughter Mardelle Menke (Greg) of Urbandale, son Phillip Bock (Bonnie) of Glidden, daughter Kathleen Grunhovd (John) Lake Mills, IA, son Stephen Bock (Tonya) of Gilbert, IA, son Robert Bock (Wendy) of Glidden, daughter Barbara Lensch of Glidden, son Brian Bock (Molly) of Solon, IA, and daughter Sarah Shoemaker (Randy) of Westlake Village, CA; 33 grandchildren; 43 great-grandchildren with several on the way; two sisters: Phyllis Tigges (Norbert) of Dexter, IA, and Shirley Clark of Lake City, IA; two sisters-in-law: Regina Bellinghausen of Las Vegas, NV and Ruth Ann Bock of Hamlin, IA, and many nieces and nephews.
     Ralph was preceded in death by his parents Cornelius and Mayme Bock; his father and mother-in-law John and Elizabeth Bellinghausen, his wife Mary Ann in 2007; four sisters: Ruth Brinker, Bernice Kohles, Jean Rector, and Ione Bock; three brothers: Vernon and Donald who passed in WWII, and Howard.