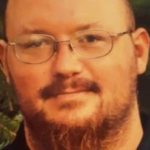 Nicholas Ray Wothe, age 40, of Glidden, IA, passed away on Saturday, February 20, 2021 at Mercy Medical Center in Des Moines, IA.
     Funeral service will be held at 10:30 A.M. on Friday, February 26, 2021 at the Dahn and Woodhouse Funeral Home in Glidden with Rev. Rick Hamilton officiating.  Casket bearers will be Curtis Soja, Sean Savavago, Benton Warnke, Doug Olberding, Dave McDonald, and Buck Kastle.   Burial will be in the Merle Hay Memorial Cemetery near Glidden.
     Friends may call at the Dahn and Woodhouse Funeral Home in Glidden from 5 – 7 P.M. on Thursday evening.  Additional visitation will be held at the funeral home from 9:30 A.M. – 10:15 A.M. on Friday morning prior to the service,
     Those in attendance at Nick's visitation and funeral are asked to abide by Covid – 19 guidelines and facemasks are required at the funeral home.
     Nick was born on May 28, 1980 in Des Moines, IA, and he was the son of Gary and Crystal (Bentley) Wothe.  He grew up in Glidden until he moved to Jacksonville, FL, when he was 14 years old.  He graduated from Englewood High School in 1998.  He did commercial construction work as a welder following high school and moved back to Glidden in 2000 and worked for Scranton Manufacturing for 15 years.  Nick loved to ride his 1979 Harley Davidson.  He enjoyed cooking, working on classic muscle cars, target shooting, and socializing with his friends.  Nick was affectionately known by his nickname "Gumby".
     Nick is survived by his parents Crystal Bentley of Glidden and Gary Wothe (Barbara Sanchez-Salazar) of Jacksonville, FL; his siblings: brother Alejandro Wothe of Jacksonville, FL, identical twin sisters: Isabel and Maria Wothe of Jacksonville, FL; and several aunts, uncles, and cousins.
     Nick was preceded in death by his grandparents Quintin and Delores Bentley and George and Phyllis Wothe.