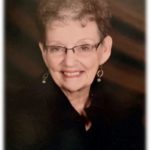 Marjorie "Marge" Everts, age 82, of Lytton, IA, passed away on Friday, February 19, 2021, at UnityPoint-St. Luke's in Sioux City, IA.  Marjorie Ann Everts was born on August 21, 1938, to parents Ivan and Tillie (Bueltel) Mozena in Webster City, IA.  She grew up in the Coon Rapids area where she attended grade school at Bayard and also graduated from Bayard High School.  After graduation, Marge continued her education at BVC, where she achieved her Bachelor's Degree in Education.
On August 5, 1961, Marge was united in marriage to John Everts.  This union was blessed with two children, Jo and Janet.  They raised their family in the Lytton area, where Marge was a teacher for several years.  She also taught preschool at Our Lord of Good Counsel, at the Catholic Church in Fonda, IA.  Marge loved every one of her students and Sunday school kids, and enjoyed running into them over the years.  There was never a student she didn't remember or enjoy.
Marge was an active member of Emanuel-St. John Lutheran Church in Lytton, where she was a member of the Women's Bible Study Circle.  Her faith was strong and she always enjoyed volunteering her time within the church.  Marge was also a member of the Red Hat Ladies, and helped organize and schedule the retirement dinners in Lytton.  Family was very important to her, second only to her faith and love of God.  She was an exceptionally proud mother, grandmother, and great-grandmother.  Marge was a thoughtful, dedicated, strong woman who will be dearly missed by all who knew and loved her.
Those left to cherish her memory include her husband of 59 years, John Everts of Sac City, IA; children: Jo (Dan) Everts-Lundberg of Fort Dodge, IA, and Janet (Chris) Noth of Davenport, IA; grandchildren: Matthew (Eva) Fevold of Gowrie, IA, and Sarah Jo (Adam) Reynolds of Rockwell City, IA; great-grandchildren: Brayden and Abrie Fevold, and Ty, Tillie, and Tripp Reynolds; brothers: Dick Mozena of Coon Rapids, IA, and Larry (Claudia) Mozena of Urbandale, IA; sister-in-law Phyllis (Jim) Leitz of Lake View; several nieces, nephews, extended family members, and friends.
Marge is preceded in death by her parents, sisters-in-law Gloria Mozena, Mary Mozena and Mary Lou (Glen) McKinney.
Visitation open to public from 9:00-10:00 at Emmanuel-St John Lutheran Church followed by a private family service will take place on Monday, March 1, 2021, at the Emanuel-St. John Lutheran Church in Lytton, IA with Pastor Ben Worley officiating.  Burial will take place at the Emanuel Lutheran Cemetery under the direction of Farber & Otteman Funeral Home in Sac City, IA.
Memorials can be directed to Emanuel – St. John Lutheran Church Sunday School.