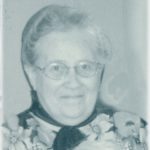 Donna Sperry, age 78 of Wall Lake, IA, passed away on Saturday, February 20, 2021, at St. Anthony Regional Medical Center in Carroll, IA. Donna Bell Sperry was born on September 7, 1942, to parents Howard and Bertha (Rusch) Sperry in Lake Park, IA. She and her brother Dennis were raised in both Lake Park and Hartley, IA. Donna graduated from Lake Park High School in 1961.
Donna worked for Campbell's Soup Company for a few years and then as a nurse aide.
She will be missed dearly by all who knew and loved her. Those left to cherish her memory include her sister-in-law, Rita Knapton of Wall Lake, IA; many other extended family members and friends.
Donna was preceded in death by her parents, Howard and Bertha Sperry; brother Dennis Sperry; many aunts, uncles, cousins and other extended family members.
A Memorial Service will be held at 10:30 a.m. on Thursday, February 25, 2021, at Farber & Otteman Funeral Home in Wall Lake, IA, with Deacon Butch Stone officiating. Burial will take place at Silver Lake Cemetery in Lake Park, IA, under the direction of Farber & Otteman Funeral Home of Wall Lake.