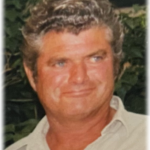 Mass of the Christian Burial  will take place at 1:00 p.m., Wednesday, February 24, 2021, at St. Joseph Catholic Church in Wall Lake, IA with Father Joe Dillinger and Deacon Butch Stone officiating. Burial will take place at the Wall Lake Cemetery. Visitation will be held Tuesday evening, February 23, 2021, from 5:00-7:00 p.m. with a 7:00 Vigil at the church.
Collin Garrels of Lake View, IA, age 74, passed away on Saturday, February 20, 202,1 at Loring Hospital in Sac City, IA. Collin Earl Garrels was born on September 6, 1946, to parents Earl and Darlene (Carroll) Garrels in Lake City, IA. He grew up in Auburn, where he attended grade school and then graduated from Lake View- Auburn High School on May 23, 1965. After graduation, Collin was drafted into the US Army and served his country during the Vietnam War. He received the rank of SP4 and was honorably discharged on November 1, 1967. After his discharge, Collin and Cindy (Snyder) Garrels were married soon after on April 27, 1968.
Collin and Cindy started their life's journey in Sioux City, IA. Collin, a livestock producer, began his career raising sows in a garage. Collin and Cindy both worked full time at IBP. With their two girls in tow, they moved back to Sac County. The land Collin and Cindy farmed provided the resources to raise 6 healthy children, 400 sows and a couple cows. Whether it was cows, crops, the garden, feeder pigs, or breeding bulls, Collin and Cindy instilled a fondness of all things living in their children, grandchildren, son-in-law's, friends, and family. Never alone, Collin was always teaching someone or telling one of his timeless jokes.
Proud father, grandfather, mentor, and friend to many, Collin and Cindy's door was open to all. Several times a week, Collin and Cindy entertained the many visitors who stopped by to talk and catch up on the latest happenings.  When Collin wasn't on the farm, he could be spotted on his four-wheeler cruising around the county, found on a riverbank checking throw lines for catfish, scouring the DNR ground for a place to set traps, or on his knees toiling in his garden. At night, Collin and Cindy sat at the table watching the latest news, discussed the days happenings or spoke with friends and family on the phone. Collin spent several nights hunched over garden catalogs, flipping through knife magazines, or thumbing through McMurry Hatchery's latest poultry catalog.
How many landline using 74 year-olds, do you know, that you actually want to hang out with?! Collin Garrels, tough as nails, realer than most, a mentor to all. If you are family, the BV is under the counter. If you are selling something, you better have a bottle in hand. The Collin Earl Garrels, tested, tried, prevailed; proud to call him ours.
Those left to cherish his memory include his wife Cynthia Garrels of Lake View; Sister: Debra Garrels (Jim) Ross of Trenton, MO; Children: Brenda (James) Schwanz of Vail, Bridget (Robert) Belt of Carnarvon, Beth (Todd) Quirk of Odebolt, Lisa (Troy) Gullett of Lake View, Janel (Bryan) Chedester of Lake View, and Clayton (Chelsy) Garrels of Lake View; Grandchildren: Dillon (Jordan), Spencer, and Sydney Schwanz, Kylie, Trey, Joy, Desirae, and Bobbie Belt, Garrett, Chandler, and Kendall Quirk, Evan, Drew, Regan, Jack, and Cain Gullett, Carter, Lauren, Collin, Calvin, Lola, Liv, Lincoln, and Lillian Chedester, Cash, Chloe, Crue, Cecelia, Cort, Clementine, and Cutler Garrels; Great Grandson Grady Schwanz; Niece and Nephews: Tanya Brunelle, Trinity, and Jay R Ross; and several friends. Collin was preceded in death by his grandson Chester Garrels and his parents Earl and Darlene Garrels.