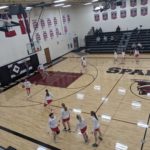 Girls Basketball Results Saturday, January 16th
Glidden Ralston At Westwood
Westwood 54
Glidden Ralston 36
Glidden Ralston slipped below 500 with a road loss on Saturday. The Wildcats have dropped two straight since winning 4 straight to get to 5-4.
The game was tighter than the final score might indicate as the Wildcats hung tough with a solid defensive effort in the 1st half. They held Westwood to 10 points in the 1st quarter and 19 for the 1st half. The offense did enough to keep them in the game as they trailed 19-17 at halftime. Westwood came out in the 3rd and opened things up as they scored off turnovers and were able to get a few open looks for their shooters. Gretchen Wallace got in foul trouble which hurt as Westwood was able to get Jaeden Ferris going in the 2nd half. The Wildcats held her to 7 in the 1st half but she finished with 21 points. Westwood jumped up by 15 after the 3rd quarter.
Gretchen Wallace led the way with 17 points and Tiela Janssen added 7 points.
The Wildcats will host Ogden on Monday on KIKD 106.7.
Glidden Ralston Stats
Vanessa Koehler 2 Points
Tiela Janssen 7 Points
Morgan Koehler 5 Points
Paige Klocke 3 Points
Kim Daily 2 Points
Gretchen Wallace 17 Points
Box Score       1          2          3          Final
GR                   10        17        26        36
Westwood       10        19        41        54
Audubon At Exira-EHK
Exira-EHK 53
Audubon 44
Macy Emgarten got hot in the 3rd quarter and Audubon went cold getting outscored 16-6. The Wheelers led most of the 1st half, after falling behind 3-0 they went on a 7-0 run with Kodie Sporrer knocking down a 3 to put them up 5-3. The Spartans grabbed a brief lead at 14-13 near the end of the 1st quarter but Audubon went right back on top and led 15-14 after the 1st quarter. Audubon build that lead to 20-14 early in the 2nd but Exira-EHK answered and cut it to 22-21 before going up 23-22 with a 9-2 run. Jaci Christensen responded with 2 of her 11 points and Audubon was up late 24-23 but the Spartans closed the half strong and Emgarten knocked down a late 3 to give them a 31-26 lead at half.
The Wheelers were able to do some damage on the inside in the 1st half with Katelyn Nielsen scoring 7 points with 6 rebounds in the 1st half and Jaci Christensen added 9 points at the break.
The 3rd didn't start well for Audubon as Emgarten who finished with a game high 24 came out shooting well and got some help from Quinn Grubbs who hit a 3, followed by a 2 that gave them a 10 point lead at 39-29. Kodie Sporrer and Kate Tessman each hit a 3 but Audubon get on track on offense and fell down 47-32 after 3. Aleah Hermansen who was scoreless thorugh 3 quarters tried to take over in the 4th and pulled her team within 7. The Wheelers had 3 possessions down 7 but couldn't get over the hump and Exira-EHK pulled the ball out and ran clock around the 3:30 mark. They got free throws from Grubbs and Shay Burmeister down the stretch.
The loss drops Audubon to 6-6 and snaps their 4 game winning streak as they head into their game at Treynor on Tuesday.
Jaci Christensen had a team high 11 points and 13 rebounds, Hermansen scored all 10 of her points in the 4th quarter, Katelyn Nielsen added 9 points and 11 rebounds. Kodie Sporrer finished with 5 rebounds and 4 assists.
Audubon Stats
Kate Tessman 3 Points, 2 Rebounds
Katelyn Nielsen 9 Points, 11 Rebounds
Aleah Hermansen 10 Points, 6 Rebounds, 2 Steals
Johanna Sauers 2 Points, Rebound
Jaci Christensen 11 Points, 13 Rebounds, 2 Assists
Kodie Sporrer 6 Points, 5 Rebounds, 4 Assists, Steal
Sienna Albertsen 3 Points, Assist
Box Score       1          2          3          Final
Audubon          15        26        32        44
Exira-EHK        14        31        47        53
IKM-Manning At Tri Center
IKM-Manning 70
Tri Center 45
The IKM-Manning defense proved to be too much for Tri Center as the Wolves created 31 turnovers with 18 steals. The defensive pressure ignited their offense as they scored 22 points in the 1st quarter and led 22-6. The Wolves had 4 girls with 3 steals each. IKM-Manning also shot the three well hitting 11 of 27 with Niccole Hanson knocking down 5 and Macie Doyle hitting 3. Both shot 50% or above for the game.  The Wolves were up 25 by half and cruised the rest of the game.
Alexa Ahrenholtz led three players in double figures with 24 points to go with 9 rebounds and 5 assists. Nicole Hanson and Macie Doyle each had 15 points and 3 steals. Doyle also had 6 rebounds. Taylor Ferneding and Bianca Cadwell each had 3 steals. Cadwell added 6 rebounds.
The Wolves return to action on Tuesday when they host Riverside. They are currently 3-7 overall and 3-5 in the Western Iowa Conference.
IKM-Manning Stats
Morgan Hanson 3 Points, 5 Rebounds, Steal
Alexa Ahrenholtz 24 Points, 9 Rebounds, 5 Assists, Steal
Nicole Hanson 15 Points, Assist, 3 Steals, Block
Taylor Ferneding 4 Points, 3 Rebounds, 2 Assists, 3 Steals
Bianca Cadwell 6 Points, 6 Rebounds, 3 Assists, 3 Steals
Macie Doyle 15 Points, 6 Rebounds, 2 Assists, 3 Steals
Bre Muhlbauer 3 Points, Rebound, 2 Blocks
Mabel Langel 2 Rebounds, Steal
Box Score       1          2          3          Final
IKM-M             22        39        53        70
Tri Center        6          14        30        45
East Sac At Storm Lake St Mary's
Storm Lake St Mary's 52
East Sac 34
The game slipped away for the Raiders in the 4th quarter as they drop their 4th straight game to fall to 2-9 overall and 0-4 in the Twin Lakes Conference. The Raiders hung tough the first 3 quarters holding Storm Lake St Mary's in 6 points in the 3rd quarter and trailed by just 6 heading into the final stanza. Meredith Brown tweaked her ankle early in the 4th and the Panthers seemed to get energized by that and went on a run.
Bree Boeckman and Mary Bontrager both scored in double figures with Boeckman with 12 points and Bontrager 10 points. Those two combined to go 9-18 from the field. The rest of the team shot 5 for 23 as the Raiders struggled to get things going. Boeckman and Bontrager also had 7 rebounds each and Boeckman led the team with 5 assists. East Sac had only 1 steal and turned it over 16 times.
The Raiders will travel to West Bend Mallard on Tuesday.
East Sac Stats
Mary Bontrager 10 Points, 7 Rebounds, Assist
Meredith Brown 3 Rebounds, Assist
Carly Fischer 5 Points, 3 Rebounds, Steal
Maty Quirk 5 Points, 3 Rebounds, 2 Assists
Bree Boeckman 12 Points, 7 Rebounds, 5 Assists
Kaytlin Sagert 2 Rebounds
Lauren Litterer 1 Rebound, Assist
Anna Mogensen 2 Points, Rebound, 2 Assists
Box Score       1          2          3          Final
ESC                  10        21        29        34
SLSM               17        27        33        52
South Central Calhoun At Alta-Aurelia
South Central Calhoun 56
Alta-Aurelia 29
Big 2nd and 4th quarters and a great defensive effort after the 1st quarter helped South Central Calhoun pull away from Alta-Aurelia for the 10th win of the season. The Titans improved to 10-3 overall and are 3-2 in the Twin Lakes Conference.
The Titans found themselves down 13-12 after the 1st quarter but didn't allow more than 6 points in any quarter the rest of the way. South Central Calhoun scored more points in the 2nd (17) and 4th (18) than the Warriors the rest of the game. They locked down defensively and were able to transition from defense to offense very well.
Kylee Schleisman and Riley Batta each finished in double figures with 17 points and 15 points respectively. Sayer Steig had a big night on the boards with 9 rebounds.
The Titans head to Pocahontas Area on Tuesday.
South Central Calhoun Stats
Riley Batta 15 Points, 6 Rebounds, 2 Assists, Steal, Block
Sayer Steig 4 Points, 9 Rebounds, Assist, Steal
Kylee Scheisman 17 Points, 5 Rebounds, Assist, 3 Steals
Brielle Korleski 4 Points, Rebound, 3 Assists, 3 Steals
Sophie McKinney 6 Points, 2 Steals
Addisyn Korleski 3 Points, 5 Rebounds, Assist, Steal, Block
Sally Musselman 2 Points, Rebound, 2 Assists, Steal, Block
Ashley Hanks 1 Steal
Emma Anderson 5 Points, 3 Rebounds, 4 Assists, 2 Steals
Box Score       1          2          3          Final
SCC                  12        29        38        56
Alta-Aurelia     13        18        23        29