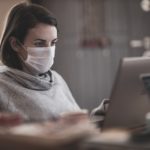 The Carroll County Board of Supervisor's face covering mandate is set to expire this Friday, Jan. 15. Chair, Gene Meiners, voiced his opinion earlier this week on whether that should be extended or not.
He says regardless of what other mandates are in place on a state level, he believes this is important for the county to get through the most dangerous period.
Dean Schettler says the word "mandate" is in language only.
Stephanie Hausman asks again why the word mandate is being used without the ability to enforce it.
Schettler says not only would they have to completely rewrite the resolution to change that, but he also thinks that even without enforcement, the word mandate is much stronger and sends a more serious message. He says we need to call it an unenforceable mandate. Rich Ruggles comments on the motion to extend the ordinance to March 15.
The mandate debate carried on through several failed motions. The first, to extend it to March 15, failed with two in favor, Schettler and Meiners, and three against, Ruggles, Hausman and Johnson. A second motion to keep the mandate in place until Feb. 6 also failed on a vote of three against, Schettler, Meiners and Hausman. A third one was made to extend it to Feb. 15, which was approved with only one vote of opposition from Hausman. The ordinance can be amended or repealed at any time by a consensus vote of the board. The entire mandate conversation can be found below.
Full discussion on extension of Carroll County face covering mandate: