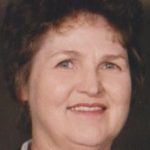 Margie Feilmeier, age 77, of Carroll, died Sunday, January 10, 2021, at St. Anthony Nursing Home in Carroll.
Mass of the Christian Burial will be moved to Monday, January 18th at 10:30 am due to proposed inclement weather at Holy Spirit Church – St. John Paul II Parish in Carroll.  The celebrant will be Fr. Kevin Richter.  Instrumental Music will be by Jane Heithoff.  Lector will be Laurel Feilmeier.  Casket Bearers will be Tom Feilmeier, Mike Janning, Conner Janning, Bob Dentlinger, Jeff Cayler, and Jan Thielen.  Private family burial will be held in Mt. Olivet Cemetery in Carroll.
Visitation without greeting the family will be held from 9:30a.m. to 10 a.m. Friday at Holy Spirit Church.  Those in attendance of services will be required to wear a face covering, and abide by all COVID 19 restrictions.
A recording of Margie's funeral mass will be available within 72 hours on the Sharp Funeral Home YouTube page at https://www.youtube.com/channel/UCqd2eeRJk5RTdEJoEooUoAQ.
Those wishing to mail a memorial may direct it to Marjorie Feilmeier Funeral, C/O Sharp Funeral Home 226 W. 8th Street, Carroll, IA 51401.
Funeral arrangements are under the guidance of the Sharp Funeral Home in Carroll, and online condolences may be left for Margie's family at www.sharpfuneral.com.
Marjorie Ann, the daughter of Leo and Bertille (Reinart) Thielen was born on August 3, 1943 at St. Anthony's Hospital in Carroll, Iowa.  She was raised on a farm south of Manning and was taught from an early age to work hard, have good values, and have a strong Catholic faith.  Margie graduated from Manning High School in 1961.  In 1963 she graduated from Antonian School of Practical Nursing in Carroll.
Marjorie married Wendell "Junior" Feilmeier in 1965, and this friendship of marriage lasted for over 50 years until Wendell's passing in 2015.    Margie worked in nursing most of her career, but returned to school to obtain her Nursing Home Administrative License in 1991.  She worked as an administrator several years before returning to her true passion of caring for others.  Most of her career was working at St. Anthony Hospital and Nursing Home; where she finished her career by working in the Nursing Home until her retirement.
Margie and Junior loved to travel and took many trips to their favorite areas in the southwest United States, although their favorite area was Estes Park, Colorado.  The couple also enjoyed their short road trips and time spent at the casino, and spending part of the winter in Laughlin, Nevada.
Margie's greatest joy was her family and grandkids who are left to cherish her loving memories.  They include her daughter Cindy (Mike) Janning of Carroll, and her son, Tom (Laurel) Feilmeier of Bay St. Louis, MS; grandson: Conner (Jacque) Janning of Ankeny; granddaughter: Hannah (Tyler Ramsey) Janning of Ankeny; a brother: Dan Thielen, and sisters-in-law: Vicki Thielen, Rita Dentlinger, Irene Feilmeier, and Marcia Feilmeier, as well as many nieces, nephews and other extended relatives.
Margie was preceded in death by her husband Wendell (Junior) Feilmeier in 2015; her parents: Leo and Bertille Thielen; parents-in-law: Wendelin and Clara (Willenborg) Feilmeier; brothers: Mel Thielen, and Ray Thielen; brothers-in-law: Jim Dentlinger, Alfred Feilmeier, Leonard Feilmeier, Rudolph Feilmeier, Earl (Janis) Feilmeier; sisters-in-law: Laura (Tony) Muhlbauer, and Marie (Ed) Lammers.