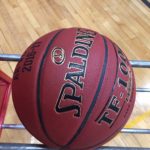 Boys Basketball Results Monday, January 11th
Kuemper At Van Meter
Van Meter 86
Kuemper 50
Kuemper hung tough in the 1st half but a 3rd quarter run helped Van Meter pull away as the Knights fall to 2-7 on the season. Kuemper was down 2 at the end of the 1st quarter and had stayed within 9 at half. The Bulldogs came out in the 3rd and hit everything putting up 32 points. They led by 32 heading into the 4th quarter.
Isaac Evans and Mitchell Badding each had 12 to lead Kuemper in the loss. Evans added 5 rebounds and 4 steals.
Kuemper returns to action on Tuesday when they host Grand View Christian.
Kuemper Stats
Dawson Edwards 4 Points, 2 Assists
John Mayhall 7 Points, 2 Rebounds, Assist
Jared Hausman 2 Rebounds
Mitchell Badding 12 Points, Rebound, Steal
Nate Overmohle 1 Rebound
Blake Pottebaum 1 Rebound, Assist, Steal
Tyler Stoelk 1 Rebound,
Taye Vonnamhe 2 Points
Isaac Evans 12 Points, 5 Rebounds, Assist, 4 Steals, Block
Dawson Gifford 3 Points, Rebound, 2 Assists
Noah Bauer 5 Points, Rebound, Assist, Steal
Michael Pottebaum 3 Points, Rebound, Assist, Steal, 2 Blocks
Box Score       1          2          3          Final
Kuemper         15        25        34        50
Van Meter       17        34        66        86
Manson NW Webster At Paton Churdan 
Manson NW Webster 58
Paton Churdan 57
Heartbreaking loss for the Rockets on Monday as they dominate the 1st half but lose on a layup as time was running out. The Rockets were in control the entire 1st half getting up by 9 at the end of the 1st quarter and were up by 13 at half. A big 3rd quarter by the Cougars pulled them within striking distance and they were able to score on a layup in the last second to pull off the comeback.
The loss drops the Rockets to 3-8 overall as they head back to conference play on Tuesday when they host Ar-We-Va on 93.7 KKRL.
Paton Churdan had three players in double figures with Shaydon Thurman leading the way with 15 points, Joe Carey and Bradyn Smith each had 14 points.  Smith had a nice double-double with 10 rebounds. Thurman added 7 rebounds.
Paton Churdan Stats
Connor Brus 7 Points, 2 Rebounds, 2 Assists, Steal
Forest Thompson 5 Rebounds, 2 Steals
Joe Carey 14 Points, 3 Rebounds, 2 Assists, 2 Steals, Block
Bradyn Smith 14 Points, 10 Rebounds, 3 Assists, 2 Steals
Justin Stream 5 Points, Steal
Shaydon Thurman 15 Points, 7 Rebounds, Assist, 2 Steals
Bryce Baker 2 Points, 2 Rebounds
Box Score       1          2          3          Final
MNW               9          21        41        58
PC                    18        34        45        57