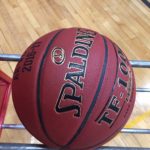 Girls Basketball Results Monday, January 11th
Manson NW Webster At Paton Churdan
Paton Churdan 44
Manson NW Webster 27
Paton Churdan continues to play well picking up another win led by an outstanding defensive effort. The Rockets held the Cougars in single digits in all four quarters and used a big 2nd quarter on offense to pull away for the win. They trailed by 1 heading into the 2nd quarter but outscored Manson NW Webster 17-7 to build a 9 point lead at half.
Danielle Hoyle finished in double figures again and led the way in scoring with 21 points while Carmyn Paup added 10 points, Tessa Steimel finished with 7 points.
The win improves the Rockets to 9-2 overall and 7-1 in the Rolling Valley heading into Tuesday conference showdown at home with Ar-We-Va on 93.7 KKRL.
Paton Churdan Stats
Chloe Berns 6 Points
Carmyn Paup 10 Points
Tessa Steimel 7 Points
Danielle Hoyle 21 Points
Box Score       1          2          3          Final
MNW               8          15        21        27
PC                    7          24        33        44