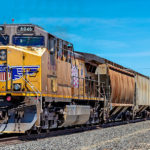 There are only seven items on the agenda for the first Carroll City Council meeting of 2021, but City Manager, Mike Pogge-Weaver, believes one of these in-particular will take a good deal of time to work through. They are bringing back the discussion on train-horn mitigation.
He says some of those options may cost additional dollars to implement and the council will have decisions to make on how to draft the policy if they decide to go that route. Pogge-Weaver explains what is necessary to enact a quiet zone.
The major issue that has prevented implementation in past years is the cost of the improvements needed to be considered a quiet zone.
He provides an example.
Other items on the agenda include a presentation of the FY2019-2020 financial statement audit and the workplan for the annual strategic plan. This takes the goals the council members set out in their recent planning session and provides more detail and direction on how to go about implementing those goals. Pogge-Weaver says the council members will also receive a copy of the FY2022 budget for review prior to their first work session at 5:15 on Jan. 18. Four sessions are planned, thought it is not usual to need all of these, the third and fourth generally act as contingencies. The dates for those are Jan. 20, Jan. 27 and Feb. 3. After the budget draft is distributed to council members, it will be posted online and can be found by following the link included below. Monday's meeting begins at 5:15 p.m. but is closed to the general public. It can be viewed live on local access cable channels or accessed digitally; details on how to do so along with a copy of the agenda and meeting packet can also be found here.
___________________________
How to access FY2022 City of Carroll budget draft: https://www.cityofcarroll.com/finance
Link to meeting access instructions, agenda and packet: https://www.cityofcarroll.com/Uploads/agendas-minutes2021/CouncilAgendaPacket011121pack.pdf