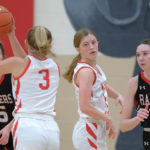 Girls Basketball Results Saturday, January 9th
East Sac At Kuemper
Kuemper 55
East Sac 45
Kuemper won for the 12th time in the last 14 meetings with East Sac County but it wasn't easy on Saturday afternoon. The Knights used two runs, the second coming late in the 3rd quarter to open up a tight game and held on for the win.
PHOTOS: Sponsored by Roselle Mutual Insurance
Kuemper went on a 15-4 run in the 1st half to build their largest lead of the game as 23-10 midway through the 2nd quarter but East Sac wasn't going away. The Raiders clamped down defensively and got a couple shots to fall starting with a jumper by Mary Bontrager. The Raiders got a 3 from Lauren Litterer and Maty Quirk who hadn't scored in the 1st quarter but dropped in 7 points during a 12-3 run to make it a 26-22 game at half.
East Sac kept coming in the 3rd and trailed by 1 at 26-25 and 29-28 before Kuemper went on their 2nd run of the game. Catherine Mayhall started it with a 3 from the top of the key and Frannie Glynn followed it with a pair of 3's and Kuemper 11-3 run to end the 3rd put them back up by 9 at the end of the 3rd quarter.
The Raiders hung tough and trailed 49-43 late but Catherine Mayhall, Kora Thomsen and Kyndal Hilgenberg made free throws.
Kuemper had 4 players in double figures with Catherine Mayhall leading the way with 16 points to go with 8 rebounds, Brooklyn Gifford added 11 points, Kora Thomsen had 10 points and Frannie Glynn finished with 10 points and 6 rebounds. Akuet Malek added 10 rebounds.
East Sac finished with 3 players in double figures with Maty Quirk and Mary Bontrager each having 11 points and 6 rebounds, Bree Boeckman finished with 10 points, 7 rebounds and 4 steals.
The win moves Kuemper to 2-9 as they take off until Friday when they host Glenwood. The loss drops East Sac to 2-8 as they will host Cherokee on Thursday.
Kuemper Stats
Akuet Malek 10 Rebounds, Steal
Catherine Mayhall 16 Points, 8 Rebounds, 2 Assists, Steal
Karly Baumhover 2 Points, 2 Rebounds
Kyndal Hilgenberg 6 Points, 3 Rebounds
Brooklyn Gifford 11 Points, 2 Rebounds, Assist, 3 Steals
Kora Thomsen 10 Points, Rebound, Steal
Frannie Glynn 10 Points, 6 Rebounds
East Sac Stats
Mary Bontrager 11 Points, 6 Rebounds, Assist, 2 Steals
Meredith Brown 2 Points, 5 Rebounds, 2 Assists
Carly Fischer 4 Points, 3 Rebounds, 2 Assists
Maty Quirk 11 Points, 6 Rebounds, 2 Assists, 2 Steals
Bree Boeckman 10 Points, 7 Rebounds, 3 Assists, 4 Steals
Kaytlin Sagert 2 Points, Rebound, Steal
Lauren Litterer 3 Points
Anan Mogensen 2 Points, 2 Rebounds
Box Score       1          2          3          Final
East Sac           6          22        31        45
Kuemper         18        26        40        55