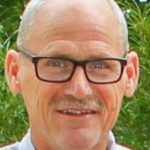 Steve Snyder, age 61, of Lake View, IA, passed away on Monday, January 4, 2021, at Loring Hospital in Sac City, IA. Steven Warren Snyder was born on November 4, 1959, to parents Allan and Dennice (Carroll) Snyder in Sac City, IA. He grew up in Lake View where he attended grade school and graduated from Lake View – Auburn High School. Steve then joined the United States Army and attended Western Iowa Tech.
On October 11, 1986, Steve was united in marriage to Sindy Saltsgiver in Sioux City, IA. They made their home in Wall Lake and Lake View, IA, where Steve worked as an Army Recruiter, a plumber for Youll Plumbing and taught plumbing at WIT Community College in Denison, IA. In 2003, Steve opened Lake View Plumbing and Heating.
Steve was a proud member of the military and worked as an army recruiter in his earlier years. He was also a member of the American Legion. In his free time, Steve enjoyed  hunting, fishing, and restoring old cars. Most of all, he enjoyed the time he spent with his family and grandchildren. He will be dearly missed by all who knew and loved him.
Those left to cherish his memory include his wife Sindy Snyder of Lake View, IA; children: Crystal (Jaime) Pudenz of Lake View, IA, Cara (Scott) Greteman of Carroll, IA, Corey (Matt) Brenner of Mapleton, IA, and Christopher (Kianna) Snyder of MO; grandchildren: Jessie (Ian) Green, Brady (Holly) Pudenz, Carter Pudenz, Lexi, Alyse, Gunner, and Alayna Greteman, Cameron, Katie, and Ryan Brenner, and Stella Snyder; one great-grandchild on the way; parents: Larry and Dennice Mills, siblings: Ray (Joni) Snyder, David (Brenda) Snyder, Kenny (Shelli) Harms, Laura (Dennis) Gruver, Rick (Rhena) Snyder, and J.J. (Chasity) Snyder; several nieces, nephews, extended family members, and friends.
Steve was preceded in death by his father Allan Snyder Sr.; brother Allan Snyder Jr.; grandparents Warren and Bonnie Carroll and Ethel and Norbert Snyder.
A memorial service will be held at 3:00 p.m., Friday, January 8, 2021 at the Farber & Otteman Funeral Home in Sac City, IA. Visitation will be held one hour prior to the service at 2:00 p.m., Friday, January 8, 2021 at the funeral home.