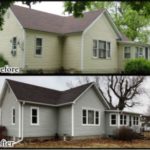 The Iowa Finance Authority announced Thursday they have awarded over $7 million to regional housing trust funds to support housing initiatives with more than $500,000 of that total going to organizations in the listening area. Council of Governments Housing, Inc., a closely held Region XII subsidiary, was awarded nearly $236,000. Region XII Local Assistance Director, Chris Whitaker, says they were thrilled when they learned of the award.
The award, which is generated through means like the real estate transfer tax, will be used to assist local leaders advance housing projects and initiatives and leverage funds to support those efforts. With a combined 25 percent local match, at least $295,000 will be available in 2021 for Audubon, Carroll, Crawford, Greene, Guthrie and Sac Counties. According to Housing Specialist, Ashley Owen, the money will be used primarily to restore housing units for lower income residents based on each county's annual median household income. She says the need for this type of assistance is always high.
Because demand is so high, Region XII does the best they can to disburse the funds as equitably as possible in their six-county region. Whitaker says they have distributed more than $1.5 million since 2015.
While there are plenty of projects yet to be completed, Whitaker and Owen agree this award is a step in the right direction for the housing stock in the region. Homeward Housing Trust Fund, which serves Calhoun County and other northwest Iowa counties, also received $284,000 of the $7 million award. Region XII and other similar organizations offer a wide range of housing programs, including USDA, CDBG and HUD. For more information about participation, contact your local agency directly.