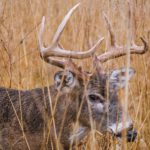 The Iowa Department of Natural Resources (DNR) is hosting a virtual meeting Thursday, Dec. 3 to discuss chronic wasting disease in Iowa. The noon meeting will be broadcast on Facebook Live and Zoom and then will be made available afterward on the DNR's YouTube channel. In a normal year, the DNR would host in-person meetings to allow citizens the opportunity to ask questions and voice concerns. Due to COVID-19 restrictions, the virtual options were developed to provide that same opportunity for meeting attendees. Tyler Harms, the DNR deer program leader, is encouraging hunters to attend the meeting or watch the recorded presentation, especially if they plan to hit the field for the upcoming shotgun seasons. "We feel it is important for hunters to be armed with information on the disease as we enter our most popular deer hunting season of the year," he says. He adds that testing harvested deer is the best and easiest way hunters can help the DNR monitor spread. "Our surveillance program relies heavily on voluntary samples from hunters, and we encourage anyone interested in helping with this effort to contact your local DNR wildlife unit if you are interested in getting your deer tested, especially those hunting in counties where chronic wasting disease has been found," Harms says. Since 2013, the disease has been recorded in Allamakee, Clayton, Winneshiek, Fayette and Dubuque in the northeast, Wayne and Decatur in the south and Woodbury in the west. Links to the live meeting options and the DNR YouTube channel can be found below.
____________________________________________
Facebook Live: https://www.facebook.com/iowadnr/
Zoom: https://us02web.zoom.us/j/87404715461?pwd=TjZhanI2NjlGQzM2em42T0xiRkQ0QT09&utm_medium=email&utm_source=govdelivery
Then enter passcode CWD2020!
DNR YouTube channel: https://www.youtube.com/user/iowadnr