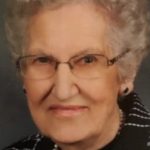 Marita Buelt, age 97, of Carroll, Iowa, died Thursday, November 19, 2020, at St Anthony Nursing Home following a brief illness.  There will be a private burial at St. Bernard's Cemetery in Breda, with a later Celebration of Life Mass for family and friends in 2021 at a date to be determined.
Funeral arrangements are under the guidance of the Sharp Funeral Home and online condolences may be left for Marita's family at www.sharpfuneral.com.
Marita Buelt was born on March 13, 1923 at Breda, Iowa, the daughter of Joseph and Mary (Reiff) Wempe   She spent her younger years in Breda, graduating from St. Bernard's High School.  On January 22, 1941 she married Ben Buelt at Ottumwa, Iowa.   They moved to Riceville, Iowa where Ben operated a Hatchery and Feed Store until 1957.   In 1957 they moved to Breda, Iowa where Ben joined his brother, Leo, in the Buelt Hatchery.   Marita was employed at General Electric at Carroll for ten years.  She also worked at the Hatchery and at a grocery store during WWII.   Marita and Ben retired in 1985 and moved to Carroll in August 2004. 
Survivors include LeRoy Gerken, the surviving spouse of daughter, Judith, of Columbia, Missouri, Shirley Frigaard and her husband, Marvin, of St. Helens, Oregon, David Buelt and his wife, Erin, of Omaha, Nebraska, Donna Donovan and her husband, Dan, of Minburn, Iowa, and Mark Buelt and his wife, Joanne, of Hillsborough, New Jersey.    Also surviving are 16 grandchildren, 18 great grandchildren, 2 great great grandchildren, 3 step grandchildren and 5 step great grandchildren.   Also, sisters-in-law, Lorraine Wempe of Halbur and Leone Buelt of Carroll.  
She was preceded in death by her husband, Ben, in 2006, her daughter, Judith Ann Gerken, in 2019, her sister, Marian Niceswanger, brothers, Clarence Wempe, Donald Wempe, and Vernon Wempe, by her parents, parents-in-law, and by Ben's brothers and sisters.   
In lieu of flowers, memorials may be sent to St. John Paul II Parish for masses or to the Multiple Sclerosis Foundation.