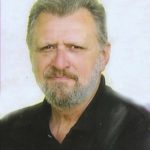 DeWayne "Bart" Richard McCord, age 73, of Glidden, IA, passed away on Wednesday, November 18, 2020 at Thomas Rest Haven Nursing Home in Coon Rapids, IA.
A private funeral service will be held on Monday, November 23, 2020 at the Dahn and Woodhouse Funeral Home in Glidden with Chaplain Angelo Luis of St. Anthony Regional Hospital in Carroll officiating.  Casket bearers will be DeWayne's grandchildren.  Burial will be in the Scranton Township Cemetery near Scranton, IA.
Those who wish to send memorials and cards may mail them to: The Family of DeWayne McCord c/o Dahn and Woodhouse Funeral Home – 705 N. Carroll St.  Carroll, IA  51401.
Funeral arrangements are under the direction of the Dahn and Woodhouse Funeral Home and online condolences may be left for the family at www.dahnandwoodhouse.com
DeWayne was born on May 26, 1947, in Denison, IA, and was the son of Virgil and Marie (Schramm) McCord.  He grew up in Denison and following high school he worked for the Ford car dealership in Carroll.  He was later hired by Arnold Motor Supply where he worked for many years.  He was married to Deanna Headlee on September 26, 1991 in Carroll, IA.  DeWayne enjoyed all things to do with cars. He loved going to NASCAR Races, working in his yard, traveling the back roads, vacations in Colorado, and attending his grandchildren's events.
DeWayne is survived by a son Marty McCord of Carroll and his son Gage; daughter Kari Gurney of LaPlata, MD and her two sons Peyton and Mitchell; his bonus children: Mike Headlee (Jean) of Carroll, IA, and their children Tyler (Holly) and Tanner; Mark Headlee (Tonya) of Grimes, IA, and their children Kaleb and Alexa, and Ronda Nicholson (Dave Nieland) of Indianola, IA, and their children Kaytee and Sara and their grandson Parker; three sisters: Janet Stegmann  of Omaha, NE, Nancy Fletcher (Ted) of Florida, and Faye Murray of Arizona; a brother Kenneth McCord (Judy) of Coon Rapids, IA; and several nieces, nephews, and other extended family members.
DeWayne was preceded in death by his parents Virgil and Marie McCord; a brother Blair McCord; and his wife Deanna in 2017.