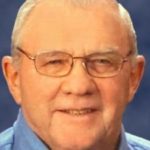 Louis Halbur, age 88, of Halbur, died Thursday, November 19, 2020 at St. Anthony Regional Hospital in Carroll surrounded by his family.
Mass of the Christian Burial will be celebrated at 1:30 p.m. on Monday, November 23, 2020 at St. Augustine Catholic Church in Halbur. The Celebrant will be Fr. Steve Brodersen. Instrumental music will be by Jane Heithoff.  Usher will be Al Kokenge. Lectors will be Britney Bruch, Jenna Niehaus, Kim Bauer, and Nicole Wirth. Eucharistic Minister will be Pat Sanders. Honorary Casket Bearers will be Jill Griebenow, Kiley Trecker, Tasha Hinners, Kelsey Pottebaum, Jenny Yates, Brandon Bruch, Kenzie Jensen. Casket Bearers will be Matthew Bauer, Nathan Halbur, Ryan Halbur, Tyler Trecker, Brett Trecker, Ross Halbur, Chris Halbur, and Cole Halbur. Burial will be in the parish cemetery with military honors conducted by the Arcadia American Legion. Those in attendance will be required to wear a face mask and abide by all current Covid-19 mitigation regulations.  Visitation without greeting the family will be held from 12:30 p.m. to 1 p.m. Monday at the church in Halbur.  A recording of Louis' Funeral Mass will be available after the funeral on the Sharp Funeral Home-YouTube Channel at this link: https://www.youtube.com/channel/UCqd2eeRJk5RTdEJoEooUoAQ. Please allow up to 24 hours for the link to be available.
Those wishing to mail a memorial may direct it to: Louis Halbur Family, C/O Sharp Funeral Home, 226 W. 8 th Street, Carroll, IA 51401.
Funeral arrangements are under the guidance of the Sharp Funeral Home in Carroll, and online condolences may be left for Louis family at www.sharpfuneral.com.
Born on March 25, 1932 at Carroll, Iowa, Louis was the son of Ben and Margaret (Steffes) Halbur. He attended school at St. Augustine School in Halbur. After his formal education he enlisted in the U.S. Army 11th Airborne Division known as "The Angels" from 1953-1955, earning his wings for parachuting.  On November 22, 1955 Louis was united in marriage to Agnes Sanders at St. Francis of Assisi Catholic Church in Maple River. Louis made it to heaven in time for their 65 th anniversary. The couple made their home south of Halbur, where they were active in grain and livestock farming. Louis was a devoted husband, father, grandfather, and a great American Farmer. He was known for his witty sense of humor and loved teasing his grandchildren. He and Agnes enjoyed traveling together, playing Euchre, and attending their grandchildren's sporting events. His ornery comments would always make you laugh. He loved his Arizona trips. The couple retired to their home in Halbur in August of 2006. Louis will be remembered for his deep devotion to his faith, and family. He was a member of the Arcadia American Legion, St. Augustine Holy Name Society and financial board, and St. Augustine Parish in Halbur, as well as the Halbur Planning and Zoning Commission. In 2000 he was inducted to the Carroll County Softball Hall of Fame as a Manager. Louis and Agnes were inducted as "Super Fans" in 2012.
Left to celebrate Louis' life are his children and their spouses: Cindy (Matt) Bauer of Templeton, Randy (Renee) Halbur of Manilla, Jean (Bill) Trecker of Roselle, Rodney (Faye) Halbur of Halbur, and Sheryl (Danny) Bruch of Templeton. 19 grandchildren, and 23 great-grandchildren with 4 more arriving within the next 4 months; his siblings: Edwin (Bernice) Halbur of Coon Rapids, Agnes Schwaller of Carroll, Rita (Harold) Sporrer of Manning; sisters-in-law, and brothers-in-law: Pat Sanders of Carroll; Kenny (Janet) Sanders of Carroll, Richard (Shirlene) Sanders of California, Eileen Halbur of Manning, as well as many nieces, nephews, and other extended relatives.
Louis was preceded in death by his wife Agnes Halbur, son Tim Halbur, his parents, his parents-in-law: John & Elizabeth (Leiting) Sanders, his siblings: Martha (Vernon) Rohe, Helen (Walt) Loeffelholtz, Leander Halbur. His sisters-in-law and brothers-in-law: Jerome Schwaller, Isabel (Leo) Henrich, Elsie (Cyril) Boes, Helen (Lawrence) Halbur, Doris (Ward) Salisbury, and Robert Sanders.