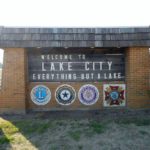 The Lake City Council will be applying for grant funding from the Calhoun County Foundation totaling up to $25,000 to help support community organizations and projects. Administrator, Eric Wood, says they have three main areas of focus with the applications, the first being the Lake City Police Department.
The second grant application will be for the Lake City Fire Department. Officials are already moving forward with a $100,000 chassis upgrade for their tanker truck, but Wood says the grant will reduce the financial burden on the city and townships that the department serves.
The final grant application is for the historic Lake City Community Building. Restoration work on the 100-year-old structure started earlier this year and should be finished by the beginning of next summer. Wood says this application will be for flooring materials and installation.
The Calhoun County Foundation is a 501(c)(3) nonprofit organization that has funded charitable and community programs and projects in the area since 2005. Applications for the 2021 grant cycle are due on Tuesday, Jan. 5. For more information, follow the links included with this story on our website.
_____
Click HERE for grant information