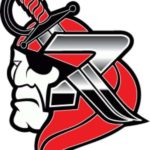 Storm Lake At East Sac
East Sac 45
Storm Lake 28
The East Sac Raiders won their season opener on Friday night over coming an 8-0 deficit early. Storm Lake scored the first 8 points and held a 8-4 lead at the end of the 1st quarter but you could see the Raiders beginning to find their rhythm. East Sac struggled from the field early but the shots began to fall midway through the 1st quarter.  The Raiders started the 2nd quarter hot scoring the first 7 points in the quarter. The 11-0 run between the end of the 1st and beginning of the 2nd gave them an 11-8 lead. The Raiders would never trail again. They lead was five at half.
Storm Lake made a run in the 3rd cutting the Raider lead to 1 but East Sac answered and led by 4 after three quarters. The 4th quarter belonged to the Raiders as they outscored Storm Lake 19-6. After trailing entering the 2nd quarter the Raiders never trailed again after taking their first lead before half. The Raiders looked really comfortable with their new offensive scheme in the 4th quarter and got several really good looks.
Mary Bontrager led the Raiders with 14 points, Maty Quirk and Carly Fischer each had 9 points and Meredith Brown finished with 8 points. The Radiers were balanced on the boards with Bontrager, Brown and Anna Mogensen each having 7 rebounds. Bree Boeckman had a team high 4 assists and Carly Fischer finished with 3 assists. East Sac had 11 steals with Meredith Brown finishing with 4 and Quirk and Boeckman each with 2. Quirk also had a team high 2 steals.
East Sac Stats
Mary Bontrager 14 Points, 7 Rebounds
Meredith Brown 8 Points, 7 Rebounds, 4 Steals
Carly Fischer 9 Points, 3 Rebounds, 3 Assists, Steal
Lauren Litterer 2 Points, Rebound, Assist, Steal
Anna Mogensen 7 Rebounds, Assist, Steal
Maty Quirk 9 Points, 5 Rebounds, Assist, 2 Steals, 2 Blocks
Bree Boeckman 3 Points, 3 Rebounds, 4 Assists, 2 Steals
Quarter Scores    1        2         3       Final
Storm Lake          8        13       22       26
East Sac                4        18       26       45