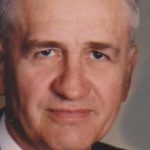 Donald Mikkelsen, age 81, of Carroll, died Thursday, November 19, 2020 at St. Anthony Nursing Home in Carroll.
Mass of the Christian Burial will be celebrated at 11 a.m., Monday, November 23, 2020 at St. John Paul II Parish – Holy Spirit Church in Carroll.  Music will be by Jane Heithoff.  Lectors will be Steve Mikkelsen, Mark Mikkelsen, and Scott Mikkelsen.    Honorary Gift Bearers will be Summer Mikkelsen, Aliyah Mikkelsen, and Alec Mikkelsen.  Eucharistic Minister will be Steve Mikkelsen.  Casket Bearers will be Adam Mikkelsen, Brittney Mikkelsen, Lance Mikkelsen, Julia Mikkelsen, Dylan DeMey, Aaron Haubrich, Marissa Haubrich, and Emily Haubrich.  Burial will be at Mt. Olivet Cemetery in Carroll.   Burial will be in Mt. Olivet Cemetery in Carroll.
A public viewing without greeting the family will be held from 10:15-10:45 a.m. at the church.
Those attending the funeral mass are required to wear a face covering and abide by social distancing guidelines.
Those wishing to send a memorial please mail to Don Mikkelsen Family, c/o Sharp Funeral Home, 226 W. 8th St. Carroll, Iowa 51401.
Funeral arrangements are under the guidance of the Sharp Funeral Home in Carroll and online condolences may be left for Don's family at www.sharpfuneral.com.
Born in Dedham, Iowa of March 13, 1939, Donald was the son of Edward and Mary (Becker) Mikkelsen.  He attended St. Joseph's School and later graduated from Kuemper Catholic High School.  On April 15, 1961, Don was united in marriage to Louise Gross at St. Francis Catholic Church in Maple River, Iowa.  The couple made their home near Dedham where Don was engaged in grain and livestock farming his entire lifetime.  A gifted and self-taught carpenter, Don constructed several barns and structures on his farms that are still there today.  In addition to farming, he was an active coach and was one of the first high school level girls' athletic coaches in the areas of basketball and softball.  In 2009, Don and Louise moved to the Carroll Community.
Don served on numerous boards in his lifetime including first lay director at St. Joseph's Parish, President of Dedham Cooperative Board, numerous school boards, including 6 years on the Carroll Community School Board.  He enjoyed relaxing with his family and friends, and time away to do a little gambling whether a friendly game of cards or a trip to the casino.  
More than anything Don was a loving husband, caring father and grandfather, and a devoted Christian.
Left to cherish Don's memory is his daughters: Jane (Mark) DeMey of Carroll, and Kay Lynn Haubrich of Carroll; sons: Steve (Mary) Mikkelsen of Dedham, Mark (Laurie) Mikkelsen of Dedham, and Scott (Brook) Mikkelsen of Halbur; eleven grandchildren, and 1 great-grandchild; his brothers-in-law and sisters-in-law Vince (Lenora) Gross of Carroll, Bernice Drees of Mapleton, Joey (Diane) Gross of Carroll, Cecilia (Mike) Simpson of Cedar Rapids, Dolores (Leroy) Boes of Carroll, Ben (Vickie) Gross of Breda, Aggie (Denny) Grossman of Glidden, and Joleen (Dave) Sander of Carroll, Norma Gross of Carroll and Andrew Kirsch of Carroll; as well as many nieces, nephews, and other extended family.
Don was preceded in death by his parents; his wife Louise in 2019; his son-in-law, Russell Haubrich; his sister, Joan Mikkelsen; his sister-in-law, Mary Ann Kirsch; and his brothers-in-law, Walter Gross and Dick Drees.