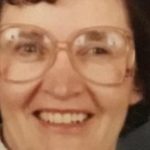 Viola Berning, age 87, of Carroll, died late Sunday, November 15, 2020 at St. Anthony Regional Hospital in Carroll.
Mass of the Christian Burial will be celebrated at 1:30 p.m., Friday, November 20, 2020 at St. John Paul II Parish – Holy Spirit Church in Carroll.  The Celebrant will be Fr. Kevin Richter.  Instrumental music will be by Marcy Anderson.  Lectors for the Funeral Mass will be Mark Berning and Dan Berning.  Casket Bearers will be Viola's family.  Burial will be in Mt. Olivet Cemetery in Carroll.
Those attending the Funeral Mass are required to following social distancing guidelines and face coverings are required.
In lieu of flowers memorials can mailed to Sharp Funeral Home, 226 W. 8th St. Carroll, IA 51401 and will be directed to Kuemper Catholic Schools and St. Anthony Foundation.
Funeral arrangements are under the guidance of the Sharp Funeral Home in Carroll and online condolences may be left for Viola's family at www.sharpfuneral.com.
Viola was born on March 9, 1933 in Carroll, Iowa, the daughter of Vitus Jacob and Genevieve (Wieland) Schechinger.  She was raised on a dairy farm west of Carroll where there were no boy jobs or girl jobs, but jobs that needed to be done.  She was educated at St. Peter and Paul Grade School, frequently hitching a ride to school with the milkman.  After school she often stopped by aunt Frannie's house and made donuts or went to Grandma Sarah Wieland's house and played at south side park; then return home to do evening chores.  Viola graduated from St. Angela's Academy, was a very popular girl and was active in orchestra and triple trio.  Following high school, she went to Chicago for training as a dental assistant.  Her first job was with Dr. Gradoville.  She tagged along to the Arcadia Legion Hall with her brother Earl where she met a handsome well-mannered man from Breda named Larry Berning.  Their romance ensued and they exchanged many love notes when he was stationed in Germany during the Korean War.  Larry and Viola were married on May 7, 1955 and started their home and family.  Like most their beginning was humble, starting in a basement structure that Larry and Uncle Francis constructed themselves.  They were parents of 5 children, David, Rick, Mark, Denise, and Dan.
Vi was a devoted mother and spouse.  A woman of few hobbies or activities outside the house.  She managed a large garden with home canning and deserts for all meals.  He dedication to her family as an educator in the Catholic ways, managing the resources and planning of family vacations and children's activities.  She managed her family with 8-9-10 rules, which were the Beatitudes, Vi's cliches and the Ten Commandments.  After her children were out of the nest, she worked for American Greeting Cards doing card displays.  She was an avid reader and television watcher when she wasn't traveling or fishing with Larry.  Her principle objective in life was having peace and happiness, attending daily mass on EWTN, and praying for her children.  The last five years Vi was a resident at Swan Place in Carroll.  She was a member of St. John Paul II Parish – Holy Spirit Church in Carroll where she was a fine vocalist and sang in the choir for many years.
Viola is survived by her five children – David Berning, Rick Berning, Mark Berning and his 4 sons: Joseph, Jacob, Sam, and Andy; Mark's two grandchildren,  Benjamin and Elijah; Denise (Mark) Kramoltz and Dan (Deb) Berning and their two children, Danielle and Dietrich; her sister Marvel (Schechinger) Morales and her brother Carl Schechinger; her sister-in-law Betty Schechinger; She is also survived by Larry's sisters: Agnes Tigges and Mary Ann Janning and his sister-in-law's- Betty Berning and Dorothea Berning. Numerous nieces and nephews. She is survived by special friends Jerry Fleshner and Lynn Humphrey
She is predeceased by her husband Larry in 2001; her parents Vitus and Genevieve Schechinger; Larry's parents W.M. and Anna Berning; her brothers: Earl Schechinger and Don Schechinger.