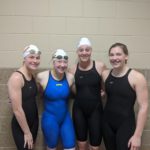 Girls State Swim Meet Results Saturday, November 14th
Carroll At Marshalltown YMCA
The Carroll girls wrapped up the season on day two of the State Swim meet with 5 participants in 4th events. The day began for them with the 200 Medley Relay which finished 22nd in 1:55.27. Bailey St Peter started the race and was followed by Jenna Currier, Melea Axman and Amelia Holt.  Axman and Currier competed in the 50 Free with Axman taking 10th place and Currier 13th. Axman swam a 24.49 and Currier swam a 24.73. Both times were slightly behind the time they swam on Friday night in the prelims. Currier says it was tough swimming the night before and having a short turn around to swim in the finals.
Currier didn't get a lot of time off before competing again in the 100 Fly. She finished the race well in 7th place in a time of 57.90. The day finished for Carroll with the same four girls swimming in the 200 Free Relay with Axman leading off followed by Holt, St Peter and Currier. They would take 6th place in the 8th and final heat and finished 8th overall in 1:40.25.
Axman and St Peter wrapped up tremendous careers at the State Meet while Currier a junior continued to build on her great career. Holt helped to establish herself as a future leader of the program as a freshman.
Team Standings
Ames 303
Iowa City West 277.5
Dowling 233
Waukee 227
Johnston 173
Cedar Fall 118.5
Ankeny 105
Linn-Marr 83
Bettendorf 79
Cedar Rapids Kennedy 73
Norwalk 71
Des Moines Roosevelt 58
Lewis Central 57
Valley 55
Iowa City High 46
Carroll 45
Boone 44
Pleasant Valley 40.5
Sioux City Metro 40.5
Waterloo 40
Fort Dodge 33
Muscatine 31
Cedar Rapids Jefferson 22
Davenport Central 20
Dubuque Senior 18
Marshalltown 12
Decorah 12
Mason City 4
Spencer 4
Carroll Results
200 Medley Relay
22nd Carroll                             1:55.27
Bailey St Peter, Jenna Currier, Melea Axman, Amelia Holt
50 Free
10th Melea Axman                  24.49
13th Jenna Currier                   24.73
100 Fly
7th Jenna Currier                     57.90
200 Free Relay
8th Carroll                                1:40.25
Melea Axman, Amelia Holt, Bailey St Peter, Jenna Currier