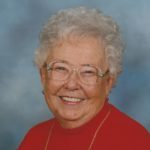 Shirley J. Schoeppner, age 97, of Carroll, died Wednesday, November 11, 2020 at Accura Healthcare in Carroll.
A funeral mass will be celebrated at 10:30 a.m. Tuesday, November 17, 2020 at Holy Spirit Church- St. John Paul II Parish in Carroll. The celebrant will be Fr. Kevin Richter, and instrumental music will be by Jane Heithoff. Burial will be at 2 p.m. Tuesday at Sacred Heart Cemetery in Templeton.  Those in attendance at the funeral mass are required to wear a face mask and abide by all Covid-19 restrictions.
Funeral arrangements are under the guidance of the Sharp Funeral Home in Carroll, and online condolences may be left for Shirley's family at www.sharpfuneral.com. Those wishing to mail a memorial may direct it to Shirley Schoeppner Family, C/O Sharp Funeral Home, 226 W. 8th Street, Carroll, IA 51401.
Shirley Jean, the middle daughter of Paul Clark and Gladys (Hamblin) Pierce, was born December 30, 1922 at Harlan, Iowa. She spent her younger years in the Harlan area. According to her high school yearbook photo, she was known as "a little piece of mischief". In 1941, Shirley graduated second in her class of 99 from Harlan High School. Several years later, she met the love of her life, Don Schoeppner.  On May 28,1951, she and Don were married in Cedar Falls, Iowa. The couple made their home in
Templeton, Iowa; where they raised their four sons, Scott, Randy, Bob, Sam.  Shirley's love of dogs, began a new adventure for her. She began to raise and breed West Highland
Terriers and Lhasa Apso pups. She called her kennel Happy Acre. Her reputation led to a job with the State of Iowa as a kennel inspector.
In 1982, she sold her property in Templeton, and moved to an apartment in Carroll. She was a member of Holy Spirit Catholic Church. She was a member of the St. Anthony Auxiliary and also volunteered at New Hope Village. Shirley was an avid reader. She enjoyed playing bridge and meeting often with
friends for coffee and a visit. When she was no longer able to live independently, she moved to Accura Healthcare Center.
Survivors include her sons, Sam Schoeppner (Kathy) of Midland, Tx; Robert Schoeppner of Noel, Mo., daughter-in-law Dolly Schoeppner (Scott d.) of Riverside, Ca. 5 grandchildren, Scott Jr. ( Julie), Sean Schoeppner (Tamara), Don Schoeppner II, Jacob Koester (Ashley), Justin Garcia; 14 great-grandchildren, 4 great-great-grandchildren and many extended family and friends.
Shirley was preceded in death by her parents, her husband Don (1974), her son Randall (2007), her son Scott (2011), and two sisters, Betty Stowe and Virginia Nelson.
The family would like to thank the nurses and staff of Accura Healthcare, Kindred Hospice, and the many family, friends and volunteers who visited with Shirley. And a very special and heartfelt thank you to Kathy Irlbeck, who was her caregiver, and became her devoted and beloved friend.