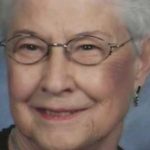 Margorie B. Shaffer, age 94, of Cedar Rapids, IA, and formerly of Scranton, IA, passed away on Wednesday, November 11, 2020 at Mercy Hallmar Residential Care in Cedar Rapids, IA.
     Due to Covid-19, services will be held at a later date.  Arrangements are under the direction of the Dahn and Woodhouse Funeral Home in Scranton, IA, and online condolences may be left for the family at www.dahnandwoodhouse.com
     Those who wish to send cards or memorials may mail them to: The Family of Margorie Shaffer c/o Jeni Hartford – 115 D. St. NE, Walford, IA  52351.
     Margorie was born on May 3, 1926 in Scranton, IA, and was the daughter of Ernest M. and Pearl (Baker) Taylor.  Marge, as she was known to most, grew up in Scranton and graduated from Scranton High School in 1943.  Following high school, she worked for Security Savings Bank in Scranton.  She was married to Thomas Shaffer on July 12, 1945 at Maryville, KS.  The couple made their home south of Scranton where they raised their family.  Marge and Tom built a house and moved into Scranton in 1972.  She was a member of the Scranton United Methodist Church and the Red Hat Society.  Marge and Tom spent 20 winters in Weslaco, TX.  She enjoyed dancing, golfing, socializing, reading, and spending time with her family.
     Margorie is survived by a son Norman Shaffer of Cedar Rapids, IA; three grandchildren: Jeniffer Hartford (Greg) of Walford, IA, Amanda Tamunoigoni (Sonye) of Yukon, OK, and Daniel Wilkes (Theresa) of Hiawatha, IA; eight great-grandchildren; and several nieces and nephews.
     Margorie was preceded in death by her parents Ernest and Pearl Taylor; her husband Thomas Shaffer; twin sisters and their husbands: Doris and John Mouw and Dorothy and John Frease; daughter-in-law Marilyn Shaffer; son Richard Shaffer; and grandson John Shaffer.