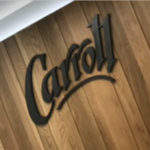 The Carroll City Council will be broaching at least two subjects that have drawn a good deal of citizen attention. The first, is regarding the outcry from local residents after several violent incidents at the Fairview Village Apartments—one resulting in the lockdown of Fairview Elementary School across the street and the other sending an Ames man to a Des Moines hospital with gunshot wounds to the lower extremities. City Manager, Mike Pogge-Weaver, says in addition to the likelihood that a local group will address the council with a petition to stop the violence on Monday night, he believes representatives of the property owners and managers, Northwest CPH, LLP and Carlson Properties respectively, will be providing an update at the Monday, Oct. 26 meeting. Another topic that has not been discussed since early March, the proposed Rental Housing Code, will be back. Pogge-Weaver says a code such as this can support affordable housing.
He says they will likely find the majority of rental properties are maintained at high standards. That is not, however, the case each and every time.
Pogge-Weaver adds it is important to note that as they paused in March because of the COVID-19 pandemic, they recognize that certain safety measures will need to be implemented with code enforcement. He says they will not be hiring a new city employee until after the rental code ordinance is enacted.
It will likely be early February before an employee is on-board if the third reading of the ordinance is approved in November. Monday's meeting will also include a discussion for possible approval of roughly five percent fee increases at the Carroll Aquatic Center, Municipal Golf Course, Rec Center and for cemetery rates. The full agenda and packet of associated materials covering those items of discussion as well as ways to join the meeting digitally can be found below.
_______________________________________
Meeting packet and details on how to join digitally: https://www.cityofcarroll.com/Uploads/agendas-minutes2019-2020/CouncilAgendaPacket10262020pack.pdf