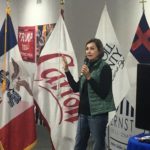 Gov. Kim Reynolds says Iowa is setting the standard for election security a day after U.S. officials confirmed Russia and Iran are attempting to interfere in the upcoming elections. According to Director of National Intelligence, John Ratcliffe, Iran has obtained some voter registration information and is using that data to confuse voters through misinformation and undermine confidence in election results. Russia has also gained access to limited information, but officials are unaware of overt attempts to interfere with voters. Reynolds says Iowa received nationwide attention this (Wednesday) morning for their continual focus on the integrity of our elections.
With a significant increase in the number of Americans voting absentee due to the pandemic, Reynolds says Iowans should feel confident that their vote will be counted accurately. Voter and election security are ever-changing landscapes, and she says it takes a lot of people working together to maintain a protected system.
She adds other states are using aspects of Iowa's model to bolster their own election security systems. Reynolds, who is not on the ballot this cycle, made her comments Thursday morning while at the Carroll County GOP headquarters campaigning for President Trump and incumbent U.S. Senator, Joni Ernst.