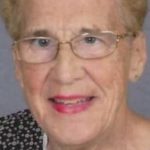 Mary Margaret Whitten, age 81, of Redfield, IA, and formerly of Bagley, IA, passed away on Friday, October 16, 2020 at Iowa Methodist Medical Center in Des Moines, IA.
A private funeral service will be held on Friday, October 23, 2020 at the Dahn and Woodhouse Funeral Home in Coon Rapids.  Casket bearers will be Mary's grandchildren.
A public graveside service will be held at 2:00 P.M. on Friday, October 23, 2020 at Union Township Cemetery near Coon Rapids in Carroll County.
Those in attendance at the graveside service are asked to abide by Covid-19 social distancing guidelines and facemasks are recommended.
In lieu of flowers, those who wish may mail memorials to: The family of Mary Whitten c/o Dahn and Woodhouse Funeral Home, 518 Main St., Coon Rapids, Iowa  50058
Mary's funeral and graveside service will be recorded and a link to view will be provided on her tribute page at www.dahnandwoodhouse.com
     Mary was born on July 9, 1939 near Bagley, IA, and was the daughter of Rudy and Mary Ann (Vogel) Vieltorf.  She graduated from Bagley High School in 1957.  After graduation, Mary was a telephone operator.  She met Gerald Whitten after he was discharged from the service and they married on November 28, 1959 at St. Patrick's Catholic Church in Bayard.
     The couple raised their family in Redfield, IA, where Mary worked part time at Edgerly's and then full time at Amoco retiring in 1995.  Mary enjoyed spending time with her grandchildren, dancing (sometimes with Gerald), shopping at Kohl's sales racks, garage sales, and going to the casino to play the penny slots.  Mary and Gerald also cherished their time with friends and neighbors especially the annual New Year's Day gathering.  Dominos games were heated, football games watched, and much celebrating was done.
     Mary is survived by a daughter Teresa Thompson (Randy) of Grimes, IA; two sons: Tim Whitten (Jennifer) of Highland, IL, and Tom Whitten (Lisa) of Hiawatha, IA;  seven grandchildren: Drew Thompson (Katie) of Omaha, NE, Samantha Whitten of New York, NY, Blake Whitten of New York, NY, Zach Thompson of Grimes, IA, Lukas Whitten of Highland, IL, Laini Whitten of Hiawatha, IA, and Alexa Whitten of Chicago, IL; one great-grandson Hayden Thompson; a brother Paul Vieltorf (Jane) of Copley, OH a brother-in-law Bob Whitten of Johnston, IA; two sisters-in-law Myrna Wulf of Carroll, IA, and Joan Whitten of Urbandale, IA; and many nieces and nephews.
     Mary was preceded in death by her parents Rudy and Mary Ann Vieltorf; her in-laws Leonard and Grace Whitten; and her husband Gerald Whitten in May of 2020.