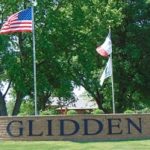 The Glidden City Council has approved the first change order to their $4.86 million wastewater project as they work to cut down on the overall cost of the planned improvements. Administrator, Brooke Peterson, says city officials have been working closely with the contractor, King Construction, and the project engineers, Veenstra & Kimm, to identify any areas where they can save money.
The total amount of the first change order is expected to save about $81,000. Peterson explains its impact on the project as a whole.
Peterson adds this is likely the first of many change orders. She says anywhere they can save without compromising the quality of the wastewater improvement will be looked at closely. With pieces starting to fall in place, Peterson says they are starting to get a better idea of the project's construction timeline.
The lagoon site, which sits on the southeastern edge of Glidden, will likely have workers on site at various time before the end of the year. Peterson does not expect for residents' daily schedules to be impacted by the construction due to its position away from any main thoroughfares in town. Tentative schedules have the lagoon coming online sometime in late 2021 or early 2022.